DBMI Faculty, Trainees Highlight Path, Benefits
To Global Research During 2022 OHDSI Symposium
The Observational Health Data Sciences and Informatics (OHDSI, pronounced "Odyssey") community is a multi-stakeholder, interdisciplinary network of global researchers that collaborates together with the mission of improving health by collaboratively generating real-world evidence that promotes better health decisions and better care.
The Columbia Department of Biomedical Informatics serves as the OHDSI coordinating center, and faculty, trainees and staff members came together in October to highlight a path towards "Building A Healthier World Together."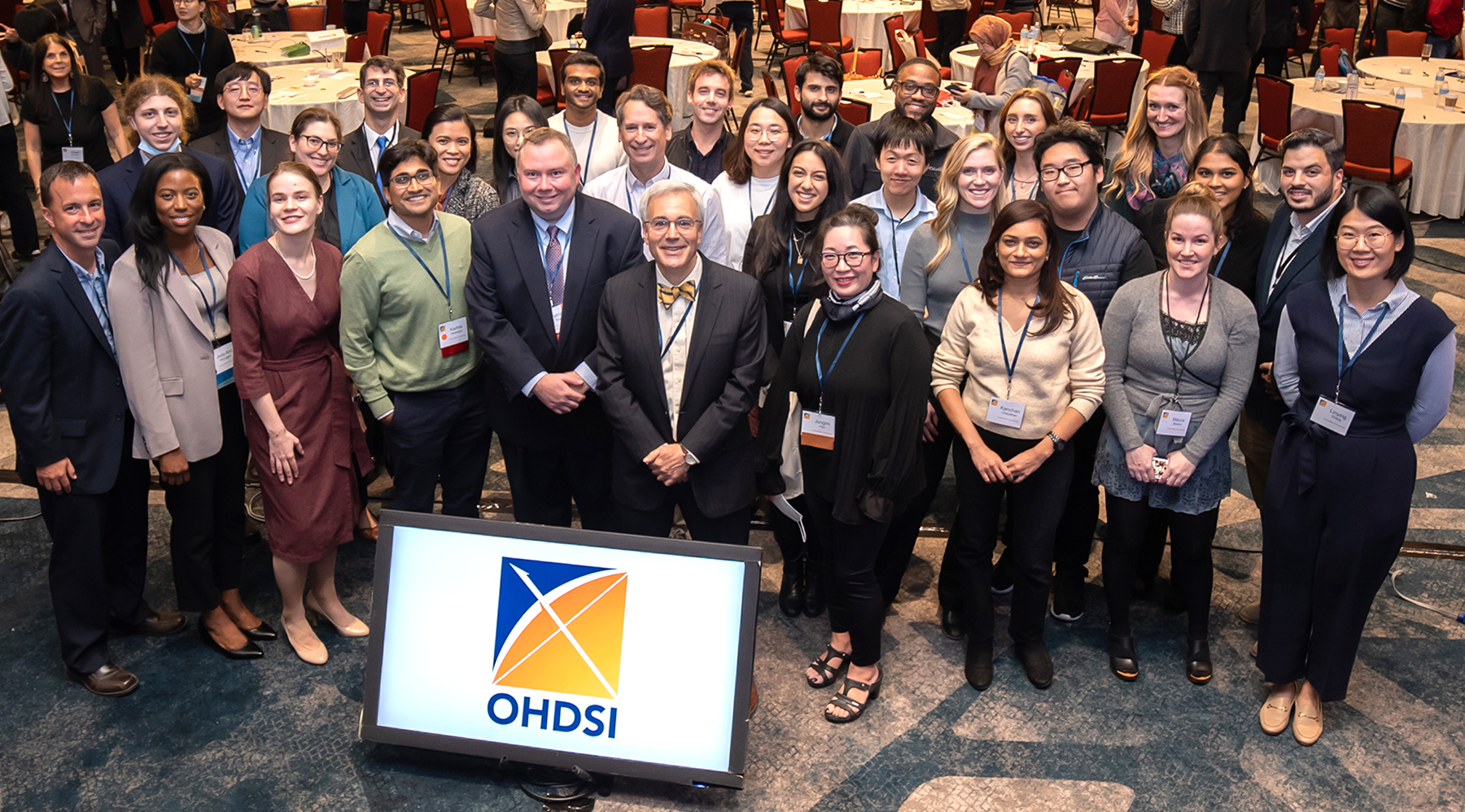 DBMI members posed following the conclusion of the OHDSI Symposium main conference.
The OHDSI Symposium, the community's first in-person global symposium since the start of the pandemic, was held Oct. 14-16 in Bethesda, Md. The first day served as the main conference and included four talks that were either led by or included DBMI members. Videos for all four talks are included below the description.
George Hripcsak, Chair and Vivian Beaumont Allen Professor of Biomedical Informatics, opened the conference with a reflection on the state of the OHDSI community. The talk provided a high-level overview of what OHDSI is all about, recent achievements, and how to become more active in the community. It uses the recent "Our Journey" publication as a guide, which you can access here.
The plenary presentation focused on 'Objective Diagnostics: A pathway to provably reliable evidence.'  It was led by Martijn Schuemie, Research Fellow, Epidemiology Analytics at Janssen Research and Development, and Patrick Ryan, Adjunct Assistant Professor of Biomedical Informatics and Vice President, Observational Health Data Analytics at Janssen Research and Development.
Linying Zhang, a PhD student in the Hripcsak Lab, was selected to give one of eight oral presentations during the Collaborator Showcase. Her talk focused on 'When does statistical equality meet health equity: developing analytical pipelines to compare associational and causal fairness in their application to EHR data.' There were several other Columbia submissions in the Collaborator Showcase, and you can see them below the videos.
Patrick Ryan wrapped up the session with a closing talk on the theme of Building A Healthier World Together, and how the OHDSI community can collaborate to achieve that goal. He focused on the scientific practices that can help this aim, but he also discussed the critical value of teamwork.
Collaborator Showcase Presentation
The 2022 OHDSI Collaborator Showcase featured a record-setting number of submissions and ultimately resulted in nearly 120 posters, software demos and lightning talks. While DBMI faculty and trainees were involved in many of these research submissions, the ones shared below were led by members of the department.
PHOEBE 2.0: selecting the right concept sets for the right patients using lexical, semantic, and data-driven recommendations (Anna Ostropolets, George Hripcsak, Christopher Knoll, Patrick Ryan)
Criteria2Query 2.0: Combining Human and Machine Intelligence for Cohort Identification (Yilu Fang, Betina Idnay, Yingcheng Sun, Hao Liu, Zhehuan Chen, Karen Marder, Hua Xu, Rebecca Schnall, Chunhua Weng)
Standardizing Knowledge of Drug Effects: An Application of PheKnowLator for Drug Safety (Tiffany J. Callahan, Patrick B. Ryan, George Hripcsak)
Assessing Measurement Data Quality in the All of Us Research Program (Jason Patterson, Xinzhou Jiang, Hongjue Wang, Nripendra Acharya, Chao Pang, Matthew Spotnitz, Karthik Natarajan)
Leveraging Location Data in OMOP to Incorporate Area Deprivation Index (Xinzhuo Jiang, Maura Beaton, Jake Gillberg, Andrew Williams, Karthik Natarajan)
Comparison of Biopsy and Diagnosis Code Based Breast Cancer Phenotypes (Matthew Spotnitz, Thomas Falconer, Maura Beaton, Karthik Natarajan)
Adjusting for Healthcare Utilization Improves the Performance of Self-Controlled Case Series Studies using Electronic Health Records (Undina Gisladottir, Nicholas Tatonetti)
Identification of patients with drug resistant epilepsy in electronic medical record data using the Observational Medical Outcomes Partnership Common Data Model (Matthew Spotnitz, Victor G. Castano, Genna J. Waldman, Evan F. Joiner, Hyunmi Choi, Anna Ostropolets, Karthik Natarajan, Guy M. McKhann, Ruth Ottman, Al I. Neugut, George Hripcsak, Brett E. Youngerman)
Characterization of first-line treatment for Breast Cancer and Multiple Myeloma using Electronic HealthRecord and Claims Databases (Maura Beaton, Matthew Spotnitz, Thomas Falconer, Melissa Accordino, Divaya Bhutani, Alison Callahan, Nigam Shah, Jake Gillberg, Andrew Williams, Karthik Natarajan)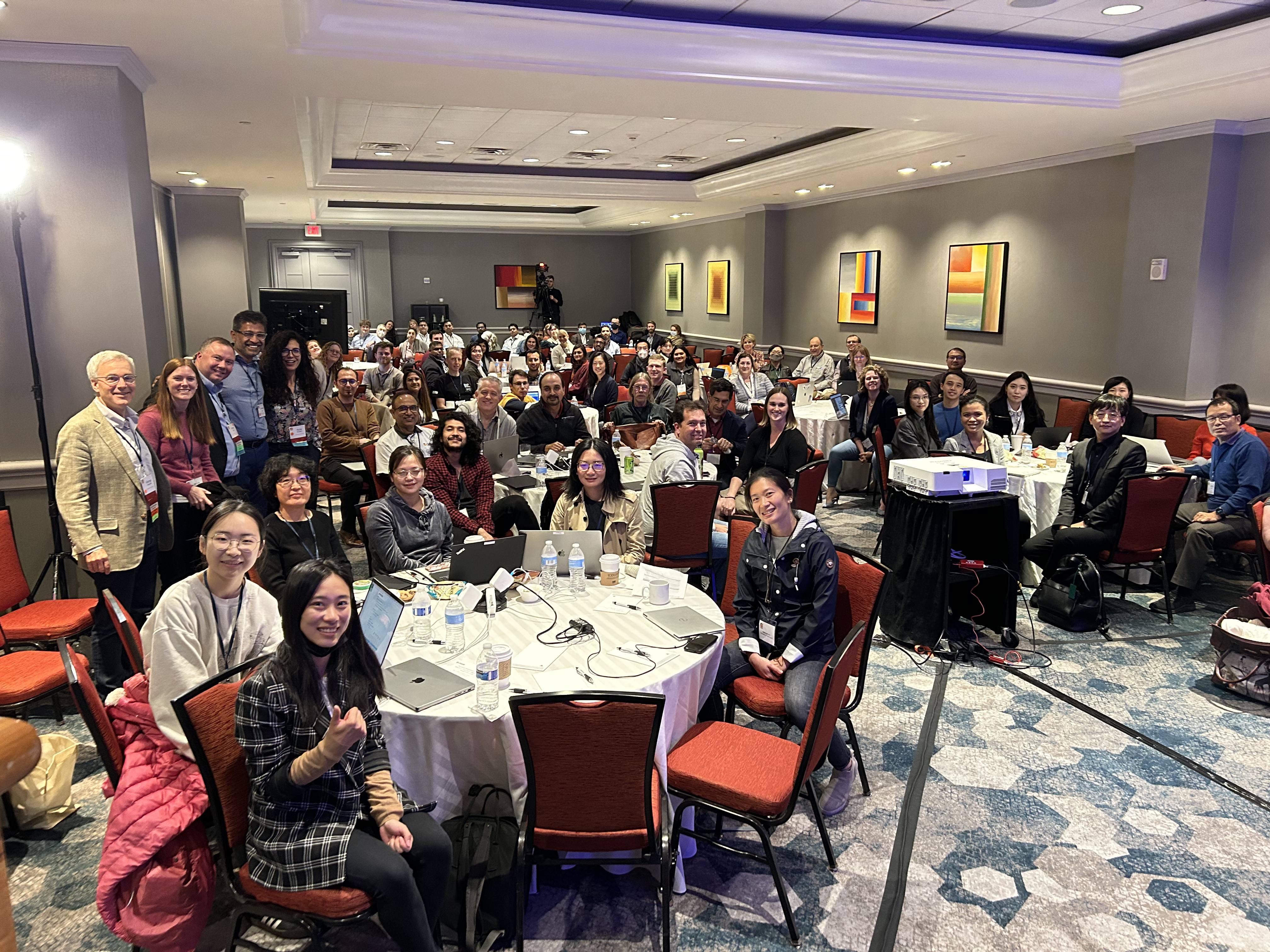 If you are interested in learning more about OHDSI, there was an all-day tutorial — An Introductory Journey from Data to Evidence — held during the symposium weekend that provides is meant to introduce participants to the varying steps along the journey from data to evidence using the OMOP Common Data Model, OHDSI tools and scientific best practices.
In each 50-minute segment, the class learned the conceptual framing of the problem and approach to the solution. The class had the opportunity to gain hands-on exposure to design and implementation of analyses and interpretation of results. The course was motivated by a real use case: using observational data to generate evidence about the relationship between an exposure and outcome, and it highlighted how the suite of OHDSI tools and practices can enable such learning.
All videos and slides from the tutorial are available here.