Alumni Talks, Research Achievements & Student Introductions Highlight 2019 DBMI Retreat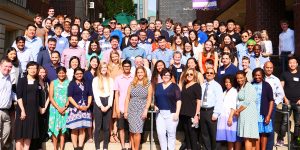 Inspirational talks from a trio of alumni, a poster session highlighting recent works within the DBMI department and an introduction of the newest Columbia trainees highlighted the annual DBMI fall retreat, which was held at the Faculty House on the Morningside Campus.
Heather Cole-Lewis, PhD, MA, Colin Walsh, MD, MA, and Xinxin "Katie" Zhu, MD, PhD, provided one of the highlight sessions of the day when they shared messages from their own journey during the "Life After DBMI" panel.
Cole-Lewis, a Director of Behavior Science at Johnson & Johnson, discussed the importance of building strong relationships with DBMI peers, who would someday be valued professional colleagues. Cole-Lewis also stressed the importance of thinking both inside and outside the box, as well as never being afraid to ask questions.
Walsh, now an assistant professor at the Departments of Biomedical Informatics, Medicine and Psychiatry at Vanderbilt University, shared the fact that he never planned on going into academics, but that you eventually become who you are supposed to be. He stressed the value of mentorship, and how his DBMI mentors helped him along his Columbia journey. He also discussed how to deal with imposter syndrome, and why he believes early networking can lead to late success.
Zhu, the Executive Director for the Center for Biomedical Data Science at the Yale School of Medicine, reminded the room that the path through DBMI would be a challenging one, but that persistence and the willingness to rely on others for help will lead to ultimate, and worthwhile, success. Zhu also provided some invaluable advice on self-management through the training process, as well as thoughts on building a post-DBMI career.
Those words were especially valuable for the newest set of DBMI trainees, which included six PhD students and 18 Masters students, each of whom shared a bit about themselves and their research interests at the start of the day. They learned about other department interests (and who could explain those interests within 60 seconds) during the 'Mad Minutes' poster introductions and the following poster session.
Interim department co-chairs Soumitra Sengupta and Noémie Elhadad, PhD, opened the day with an overview of the department and training program, while Chunhua Weng, PhD, and Adler Perotte, MD, MA, both discussed work going on within their respective labs during the Faculty Talk segments.
Following the annual student skit — a 'debate' that brought the worlds of (among others) informatics, Facebook and Game of Thrones together — and closing remarks, the department shared a night on the Hudson River during an ideal evening for sightseeing, bonding and preparing for the upcoming year.