Collen, Lindberg Awards, Multiple Faculty/Trainee Presentations Highlight Successful AMIA 2023 Week
Once again, both faculty and trainees from the Department of Biomedical Informatics were highly involved, active and celebrated at the annual American Medical Informatics Association (AMIA) Symposium.
While the department was involved in at least 25 different sessions throughout the five-day event in New Orleans, one of the most memorable events came during the Opening Session, when five members of the department were honored.
Professor Suzanne Bakken, PhD, RN, FAAN, FACMI, FIAHSI was honored with the 2023 Morris F. Collen Award of Excellence, which is presented to an individual whose personal commitment and dedication to medical informatics has made a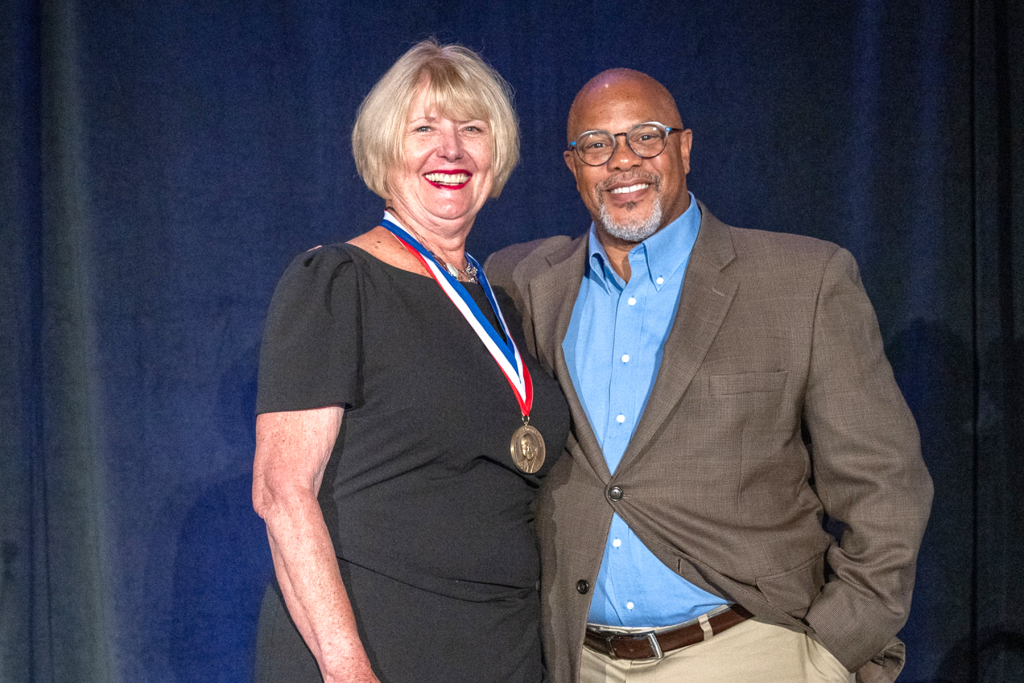 lasting impression on the field. Bakken, currently the Editor-in-Chief for the Journal of the American Medical Informatics Association (JAMIA), is a nurse, a professional pursuit that led her to systems science as an approach to nursing—the ability to scale interventions and help more than a single patient.
Her deep commitment to clinical practice and interdisciplinary team science informed by technology has guided her core work focused on patient care outcomes, quality of life, and reducing health disparities. The integration of a health equity lens in the field of informatics has been her life's work in research, education, training and mentoring future leaders. Learn more about Dr. Bakken's career.
She is the fifth member of the department to be honored with the Collen Award. The others are Edward Shortliffe (2006), Carol Friedman (2017), James Cimino (2019), and George Hripcsak (2022).
Associate professor and DBMI chair Noémie Elhadad, PhD, was honored with the prestigious Donald A.B. Lindberg Award for Innovation in Informatics. Dr. Elhadad's research interests are at the intersection of machine learning, natural language processing, and medicine. She investigates ways in which observational clinical data (e.g., electronic health records) and patient-generated data (e.g., online health community discussions, mobile health data) can enhance access to relevant information for clinicians, patients, and health researchers alike and can ultimately impact healthcare and health of patients.
Past Lindberg Award honorees from the department include Friedman (2010) and Cimino (2012).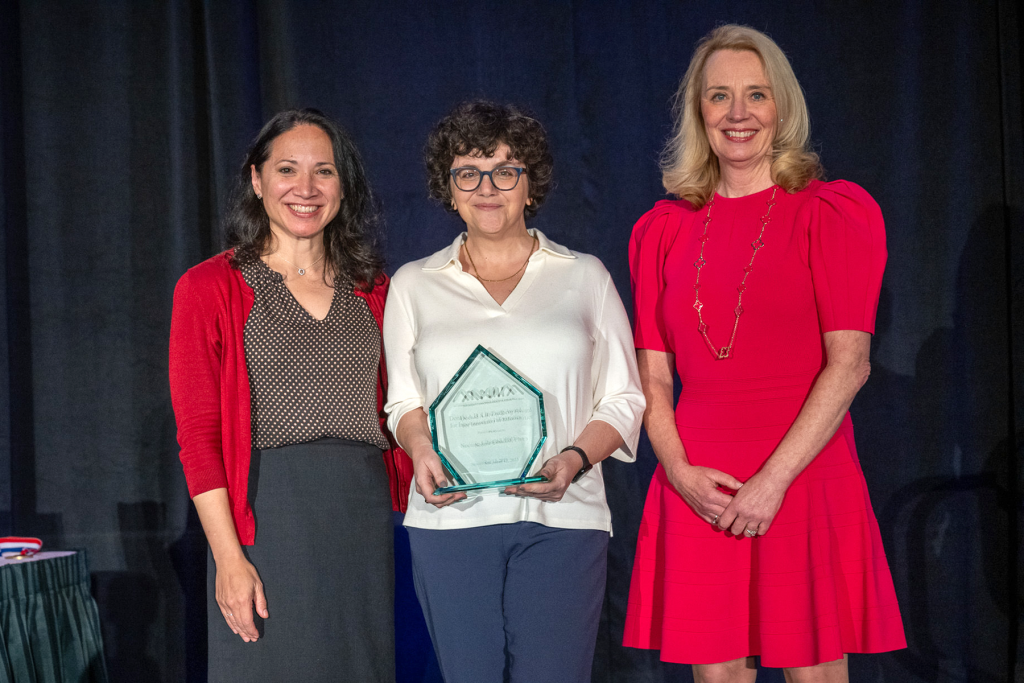 Associate professor Sarah Rossetti RN, PhD, FACMI, FAMIA, FAAN was honored with an AMIA Leadership Award for her contributions to the 25×5 Burden Reduction Task Force. The mission of this task force is to spread impactful solutions across the health system that decrease non-value-added documentation and leverage partnerships and advocacy with health systems, professional societies, and public/private sector organizations.
Associate Professor and Graduate Program Director Lena Mamykina, PhD, was one of the 23 new Fellows inducted into the American College of Medical Informatics (ACMI) during a Sunday evening ceremony. Mamykina also served as corresponding author for the paper titled Who needs what (features) when? Personalizing engagement with data-driven self-management to improve health equity, which was selected for inclusion in the "Informatics Year in Review" as one of the four best papers in the Consumer Health Informatics category. PhD student Pooja Desai was also an author on the paper.
Anna Ostropolets, PhD, who recently graduated from the department, earned honorable mention in the Edward H. Shortliffe Doctoral Dissertation Award competition. Her dissertation was entitled "Generating Reliable and Responsive Observational Evidence: Reducing Pre-analysis Bias," and she provided a presentation on this research later during the week.
Elise Ruan MD, MPH, a Clinical Informatics Fellow in the department, earned third-place in the Student Paper Competition for A Practical Approach to Optimize Computerized Provider Order Entry Systems and Reduce Clinician Burden: Pre-Post Evaluation of Vendor-Derived "Order Friction" Data.
Prathiv Raj, a high school student who took part in the 2023 DBMI Summer Research Program, earned a Distinguished Poster Award for the poster he collaborated on with Herbert Chase, MD, Professor of Medicine (in Biomedical Informatics): Multidrug Interactions on Intracranial Hemorrhage in Geriatric Patients.
All DBMI presentations, panel discussions and posters are listed below.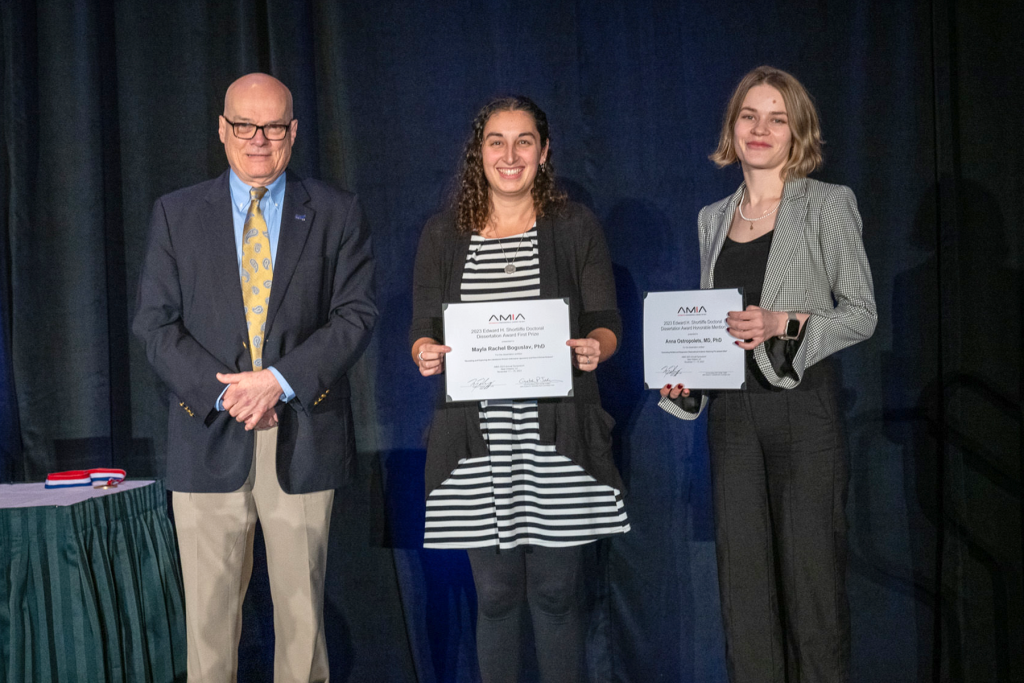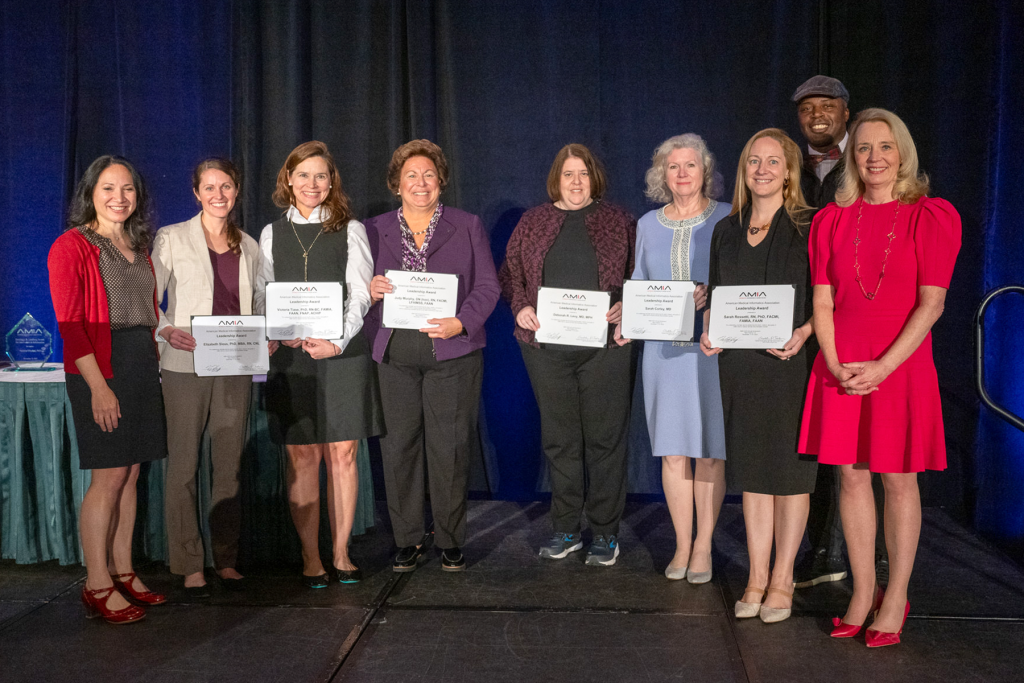 W22: Advancing Diversity, Equity, and Inclusion in Biomedical Informatics Research: Strategies and Best Practices for Using Inclusive Language Across the Research Lifecycle 
Speaker: Harry Reyes Nieva
SP1: Student Paper Competition 
A Practical Approach to Optimize Computerized Provider Order Entry Systems and Reduce Clinician Burden: Pre-Post Evaluation of Vendor-Derived "Order Friction" Data
Speakers: Elise Ruan, Sarah Rossetti
W30: Advancing health equity in the US and beyond: developing a framework for mutually beneficial informatics collaborations
Speaker: Elizabeth Campbell
OS1: Opening Session: Awards and Keynote Presentation
Morris F. Collen Award Recipient: Suzanne Bakken
Donald A.B. Lindberg Award for Innovation in Informatics: Noémie Elhadad
Edward H. Shortliffe Doctoral Dissertation Award Honorable Mention: Anna Ostropolets
S06: Documentation – "Write This Down"
Identifying Reuse and Redundancies in Respiratory Flowsheet Documentation: Implications for Clinician Documentation Burden
Speakers: Jennifer Withall, Mai Tran, Amanda Moy, Syed Mohtashim Bokhari, Rachel Lee, Sarah Rossetti
S07: Infectious Disease/Sepsis – "Fever" 
Enabling a Learning Public Health System: Enhanced Surveillance of Sexually Transmitted Infections
Speakers: Harry Reyes Nieva, Noémie Elhadad
S14: Applications of Informatics in Health Equity – "All the Things You Are"
Explaining Treatment Disparities from a Causal Perspective with EHRs
Speakers: Xinzhuo Jiang, Karthik Natarajan, George Hripcsak
S24: Trauma and Emergency Medicine – "Like Spinning Plates" 
A Computational Framework to Evaluate Emergency Department Clinician Task Switching in the Electronic Health Record Using Event Logs
Speakers: Amanda Moy, Jennifer Withall, Sarah Rossetti
S26: ACMI Collen Award Panel Presentation: Informatics Approaches to Address Epistemic Injustice for Healthcare Consumers
Speaker: Suzanne Bakken
S23: Disability and Justice Informatics – "Pride (In the Name of Love)"
Promoting Equity in Clinical Research: The Role of Social Determinants of Health
Speakers: Yilu Fang, Betina Idnay, Chunhua Weng
Synthesizing Gaps and Priorities for a Justice Informatics Research Agenda
Speakers: Adrienne Pichon, Aparajita Kashyap, Tara Anand, Elizabeth Campbell, Kayla Schiffer, Courtney Diamond, Bria Massey, Christopher Allsman, Abigail Newbury, Lauren Richter, Suzanne Bakken
S25: AI Showcase Stage III Oral Presentations 
Development, Optimization, and Evaluation of CONCERN Early Warning Score in Multi-site Clinical Trial
Speaker: Sarah Rossetti
S33: Underserved Populations – "Everybody"
Auditing Learned Associations in Deep Learning Approaches to Extract Race and Ethnicity from Clinical Text
Speakers: Adrienne Pichon, Harry Reyes Nieva, Tony Sun, Karthik Natarajan, Adler Perotte, Noémie Elhadad
S37: AMIA Edward H. Shortliffe Doctoral Dissertation Award Presentations 
Generating Reliable and Responsive Observational Evidence: Reducing Pre-analysis Bias
Honorable Mention: Anna Ostropolets
S38: Large Language Models in Healthcare: Opportunities and Challenges
Speaker: Chunhua Weng
Poster Session 1
Consistent perceptions of infographics across heterogeneous Latino groups
Presenter: Suzanne Bakken
Defining, Characterizing, and Predicting Endometriosis Flare-Ups through Machine Learning with Patient-Generated Data
Presenters: Adrienne Pichon, Noémie Elhadad
Development and Validation of Machine Learning and Deep Learning Models for Mpox in a Learning Health System
Presenters: Harry Reyes Nieva, Noémie Elhadad
Extending the Use of Time Series Clustering to Detect Emergency Department Shifts from Electronic Health Record Audit Logs to Physicians
Presenters: Amanda Moy, Jennifer Withall, Sarah Rossetti
Trust in Artificial Intelligence (AI) for Mental Healthcare: A Subgroup Analysis by Pregnancy History
Presenter: Pooja Desai
Developing Human-Centered Tools for Supporting Nutritional Choices
Presenters: Ishan Sinha, Pooja Desai, Lena Mamykina
Multidrug Interactions on Intracranial Hemorrhage in Geriatric Patients
Presenter: Prathiv Raj, Herbert Chase
S53: Real-world Modeling & Implementation – "Fortune Teller"
Physiological phenotype forecasting in the ICU with data assimilation
Speaker: George Hripcsak
S49: Measuring Long Term Impact on Health Professionals' Documentation Burden Reduction: 25×5 Task Force Logic Model, Mixed-Methods, and Innovative Approaches 
Speakers: Sarah Rossetti, Amanda Moy
S63: Workflow – "Whistle While You Work"
A Practical Approach to Optimize Computerized Provider Order Entry Systems and Reduce Clinician Burden: Pre-Post Evaluation of Vendor-Derived "Order Friction" Data
Speakers: Elise Ruan, Sarah Rossetti
S58: "The Machine Learned What about me?" – Perspectives on Patient-facing Machine Learning Algorithms 
Speaker: Pooja Desai
S75: Nursing – "Healing Hands" 
Variability in Nursing Documentation Patterns across Patients' Hospital Stays
Speakers: Rachel Lee, Jennifer Withall, Sarah Rossetti
S83: Clinical Trials & Patient Eligibility – "Put It to the Test"
Session Chair: Chunhua Weng
S82: Research Applications of LLMs – "Prompt-ly"
Standardizing Multi-site Clinical Note Titles to LOINC Document Ontology: A Transformer-based Approach
Speakers: George Hripcsak, Karthik Natarajan
Poster Session 2
Nursing Surveillance Risk Scores Preceding Psychological Deterioration
Presenters: Elise Ruan, Sarah Rossetti
Theories Integration to Understand Nursing Documentation Prioritization
Presenters: Sarah Rossetti
Using Natural Language Processing to Identify Stigmatizing Language in Labor and Birth Clinical Notes
Presenter: Betina Idnay
S89: Making EHRs SAFER: Evidence-based Informatics Solutions for Supporting Clinician Cognition
Speaker: Jason Adelman
S105: Debates – Large Language Models – "What a Wonderful World" 
Should Generative Artificial Intelligence Be Used for Patient Care?
Speakers: George Hripcsak, James Cimino