DBMI Represented Well At AMIA 2021; Patel, Ryan Honored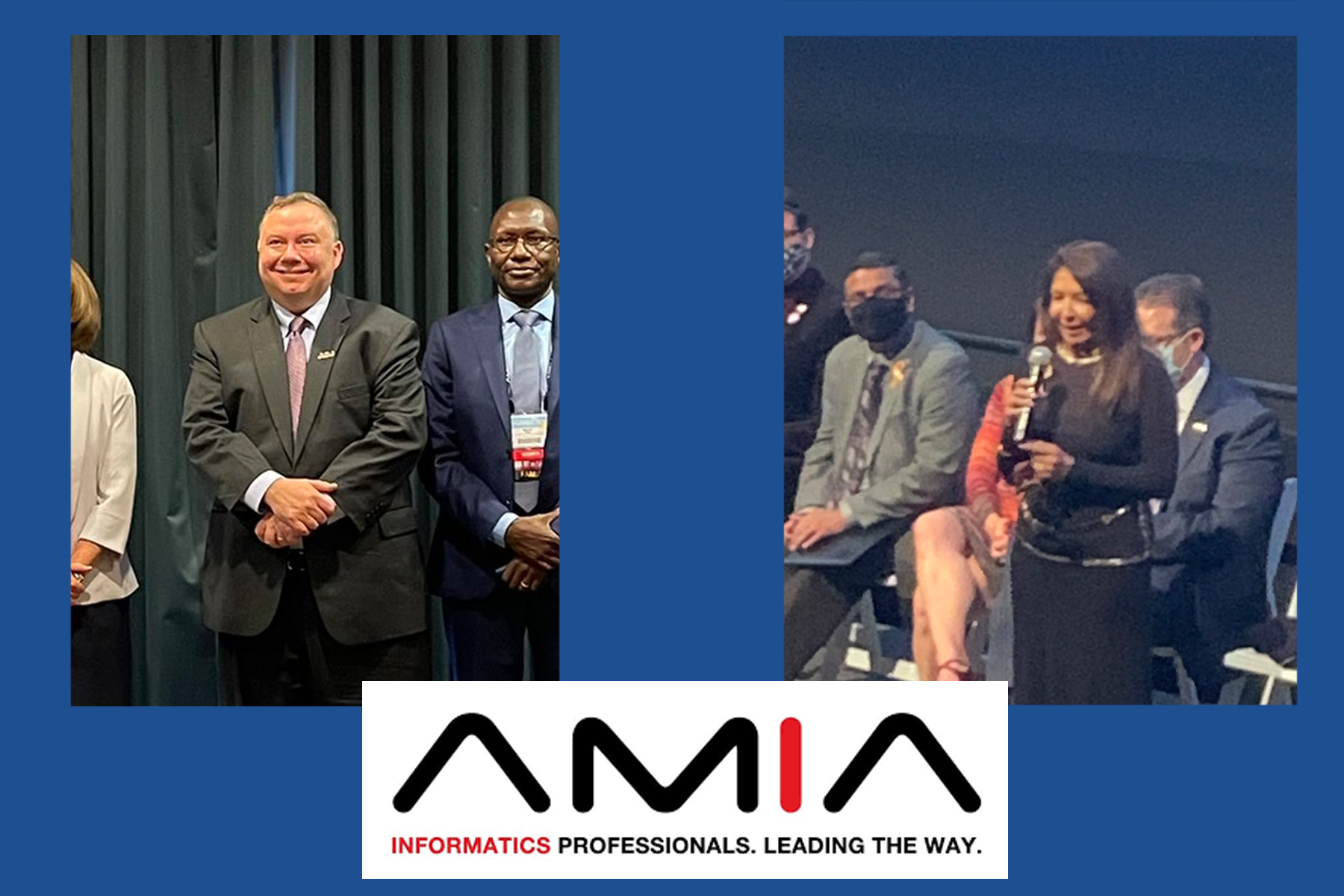 Two members of the DBMI faculty were honored, while several members of both the faculty and trainees provided presentations at the 2021 American Medical Informatics Association (AMIA) conference, held Oct. 30-Nov 3 in San Diego.
Vimla Patel, Adjunct Professor of Biomedical Informatics, was honored with the William W. Stead Award for Thought Leadership in Informatics. Patrick Ryan, Adjunct Assistant Professor of Biomedical Informatics and Vice President, Observational Health Data Analytics at Janssen R&D, was one of 11 new Fellows who was inducted into the American College of Medical Informatics (ACMI).
An education and cognitive psychology Ph.D. graduate of McGill University in Montreal, Patel was a Professor of Medicine and the director of McGill's Cognitive Science Center. Her early research focused on scientific foundations for medical education, focusing on medical decision-making and expert reasoning. She subsequently served as Professor of Biomedical Informatics at Columbia (2000-2007), Arizona State University (2007-2009), and the University of Texas Health Sciences Center in Houston (2009-2011).
An associate editor of the Journal of Biomedical Informatics and on the editorial board of Intelligence-Based Medicine, she is an editor of the Springer book series on Cognitive Informatics in Biomedicine in Healthcare. Her current research deals with the impact of technology on human cognition for safer and effective clinical practice, as well as on global mental health. She has over 300 scholarly publications spanning books and journals in biomedical informatics, education, clinical medicine, and cognitive science
Ryan is leading efforts to develop and apply analysis methods to better understand the real-world effects of medical products. He is an original collaborator in Observational Health Data Sciences and Informatics (OHDSI), a multi-stakeholder, interdisciplinary collaborative to create open-source solutions that bring out the value of observational health data through large-scale analytics. He served as a principal investigator of the Observational Medical Outcomes Partnership (OMOP), a public-private partnership chaired by the Food and Drug Administration, where he led methodological research to assess the appropriate use of observational health care data to identify and evaluate drug safety issues.
The symposium once again included numerous presentations by members of DBMI. This year, 27 different representatives of the department were part of presentations, panels, challenges or were honored. The full list of DBMI representation at AMIA 2021 is available below.
| | | | |
| --- | --- | --- | --- |
| Person | Role | Session | Individual Topic |
| Oct. 30 | | | |
| Jason Patterson | Speaker | W02: Genomic research in the All of Us Researcher Workbench: Advancing precision medicine for all | |
| Vimla Patel | Speaker | W03: Analysis of Human Interactive Behavior for Improving Health IT Usability and Clinical Workflow (sponsored by Clinical Information Systems Working Group) | |
| Pierre Elias | Speaker | W08: Machine Learning in Cardiology & Cardiac Imaging: How to get started | |
| Suzannne Bakken, Kenrick Cato | Speakers | W14: Exploring mechanisms to examine racial biases within a LHS framework (sponsored by Nursing Informatics Working Group) | |
| | | | |
| Oct. 31 | | | |
| Patrick Ryan | Inductee | ACMI Fellows Class of 2021 Induction Ceremony (ACMI Fellows Only) | |
| David Vawdrey | Speaker | S01: Oral Presentations – Understanding and Improving Clinical Documentation | A Practical Approach for Monitoring the Use of Copy-Paste in Clinical Notes |
| Griffin Adams | Speaker | S01: Oral Presentations – Understanding and Improving Clinical Documentation | Exploring Automatic Summarization of the Hospital Course |
| Shreyas Bhave | Speaker | S07: Oral Presentations – Imaging Informatics | LVHNet: Detecting Cardiac Structural Abnormalities with Chest X-Rays |
| Lisa Grossman Liu | Speaker | S09: Oral Presentations – Overcoming Limitations of Heathcare Data | Effect of Abbreviation and Acronym Expansion on Patients' Comprehension of their Health Records: A Randomized Trial |
| Anna Ostropolets | Speaker | S09: Oral Presentations – Overcoming Limitations of Heathcare Data | PHenotype Observed Entity Baseline Endorsements (PHOEBE) – recommender system for concept selection in phenotype algorithm development |
| James Cimino | Speaker | S11: ACMI Panel – Resolved: Electronic Health Records are Dumbing Down Clinicians | |
| Patrick Ryan | Inductee | ACMI Fellows Reception | |
| | | | |
| Nov. 1 | | | |
| James Cimino | Presenter | S21: Year in Review | |
| Amelia Averitt '20 | Honoree | S28: Doctoral Dissertation Awards Presentation | |
| David Albers | Speaker | S38: Oral Presentations – Knowledge and Information Modeling | Toward phenotyping of ventilator-induced lung injury with a damage-informed pulmonary model of lung-ventilator interaction. |
| James Cimino | Speaker | S39: Oral Presentations – Diversity, Equity, and Inclusion Informatics | Racial Disparity in Clinical Alert Overrides |
| David Vawdrey | Speaker | LB05: Panel – Lessons in Health Equity from the CMS AI Health Outcomes Challenge | |
| Kenrick Cato | Speaker | S42: Oral Presentations – Impact of COVID-19 on Clinical Care and EHR Use | Pre- and Intra-COVID-19 Comparison of Nursing Flowsheet Documentation Burden in Acute and Critical Care Units |
| Harry Reyes Nieva | Speaker | S45: Oral Presentations – Studies in Natural Language Processing | Differential Presentation and Delays in Treatment for Acute Myocardial Infarction Associated with Sex and Race/Ethnicity |
| Oliver Bear Don't Walk IV | Speaker | IPS01: Addressing Health Disparities in the Era of AI (IBM Presentation) | |
| Karthik Natarajan | Presenter | Poster Session 1 | Designing a Data Quality Characterization Tool for Fitness Tracker Data |
| | | | |
| Nov. 2 | | | |
| Tony Sun | Speaker | S52: Oral Presentations – Applied Machine Learning | Gender Differences in Time to Diagnosis through Fairness and Time Variant Evaluation of EHR Data |
| Matthew Spotnitz | Speaker | S59: Oral Presentations – Translational and Interdisciplinary Approaches to Improve Patient Care | Harmonization of Measurement Codes for Concept-Oriented Lab Data Retrieval |
| Pooja Desai, Tara Anand | Speaker | S73: Student Design Challenge | MedMessages: A Chatbot for Patient Symptom Reporting |
| Andrew Kanter | Speaker | IPS03: The Challenge of Measuring Healthcare Quality in a Post-pandemic World (IMO Presentation) | Capturing and maintaining data quality and clinical specificity throughout the information ecosystem is required for new directions in quality measurement |
| Shreyas Bhave | Speaker | S83: Oral Presentations – Modeling Biometric Signals and Risk | Multi-Channel LSTM for Modeling Irregularly Sampled Time Series |
| Amanda Moy | Speaker | Poster Session 2 | Assessing CONCERN: Analysis of Application Log Files to Investigate the Utilization of a Clinical Decision Support Tool for Identifying Risky Patients |
| | | | |
| Nov. 3 | | | |
| Oliver Bear Don't Walk IV | Speaker | LB10: Oral Presentations – Barriers to and Facilitators of Diversity, Equity, and Inclusion in Informatics | A Framework to Support Diversity, Equity, and Inclusion within AMIA Through Strengthened Pathways, Support and Leadership |
| Adrienne Pichon | Speaker | S92: Oral Presentations – NLP Applications | Cognitive Function Characterization Using Electronic Health Records Notes |
| Elliot Mitchell | Speaker | S100: Oral Presentations – Consumer Informatics Tools | "There for You Every Day": Pilot Study of an Automated Conversational Health Coach |
| | | | |
| | | | |
| Rita Kukafka | Speaker | VD06: Oral Presentation – Informatics Applications | Trust and credibility of information sources related to COVID-19 among high-risk ethnically diverse adults at the onset of the New York City outbreak: A cross-sectional survey conducted via a community health portal |
| Oliver Bear Don't Walk IV | Speaker | VD10: Panel – Representation Requires Intentionality: Our Journey to Creating a Diverse Informatics Workforce | |
| Julia McGuinness | Speaker | VD11: Oral Presentation – Standards and Ontology | Extraction of Electronic Health Record Data from FHIR for Automated Breast Cancer Risk Assessment |
| Rimma Perotte | Speaker | VD12: Oral Presentation – Applied Clinical Informatics | Characterization of Electronic Health Record Documentation Shortcuts: Does the use of SmartPhrases increase efficiency in the Emergency Department? |