Connections, Innovations & Culture: George Hripcsak Led DBMI While Serving Patients During Remarkable Time As Chair
Fort Washington Avenue saw its normal flow of cars and pedestrians one afternoon in the early 1990s, but a particular interaction has stuck in the mind of George Hripcsak, MD, MS, mind three decades later. Then a junior researcher at the recently established Columbia University Center for Medical Informatics, Hripcsak was surprised when an attending surgeon noticed him and navigated through the traffic simply to offer thanks for helping build a clinical information system that would help inform New York-Presbyterian Hospital's medical care moving forward.
"Surgeons don't cross busy avenues to say thank you unless they are earnest about how much they appreciate this access to data that they never had before," Hripcsak said.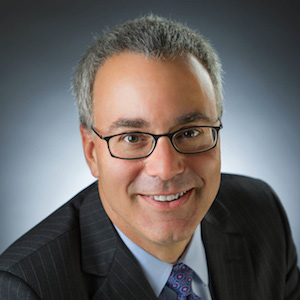 George Hripcsak's 15 years as DBMI chair will conclude at the end of 2022.
From that immediate access to hospital data to timely access to global data during the earliest days of the COVID-19 global pandemic, Hripcsak has led initiatives that made the once unthinkable become reality. Though the informatics developments over his four decades at Columbia have been complex, his philosophy on leadership has been simple.
Currently in his final days of a 15-year tenure as the Chair and Vivian Beaumont Allen Professor of Biomedical Informatics, Hripcsak wanted to shape the department around people who were nice, bright and hard-working. This philosophy, first provided by his own mentor, guided his hiring decisions and ultimately blossomed into the departmental culture.
Hripcsak, the recipient of the prestigious 2022 Morris F. Collen Award of Excellence, will remain at the Columbia University Irving Medical Center to continue his informatics initiatives, but he will step aside Jan. 1, 2023, when Noémie Elhadad will take over as the new chair of the Columbia University Department of Biomedical Informatics (DBMI). The department has a new name and location from when Hripcsak first joined, but the core mission of improving healthcare and patient outcomes through informatics has not changed.
Instead, the impact DBMI has made — and can continue to make — has grown exponentially. Much of that is due to Hripcsak and his simple belief that 'when in doubt, do good work.'
Hripcsak has followed that mantra throughout his career. His ability to guide a department that empowers its own researchers, while educating the future of the field and bringing together a global community around observational healthcare research, can be viewed as the gold standard in academic leadership.
The Early Days
Hripcsak grew up much like he served as DBMI chair — a New Yorker interesting in building things. Electronics were an early passion, and then computers; he built his first computer as an undergraduate at Haverford College outside of Philadelphia, his one extended stint outside of New York.
He earned his MD in medicine at Columbia University and became a board-certified internist, but his interest in math and computing never subsided. He wrote programs during his residency "just to pass the time," and searched for a fellowship that would bring both his medical and analytical passions together. Simultaneously, Paul Clayton was hired as the initial director, and then chair, for the new Center for Medical Informatics at Columbia.
Hripcsak spent three of his final internal medicine residency months within the center, then joined as a post-doc. He never left.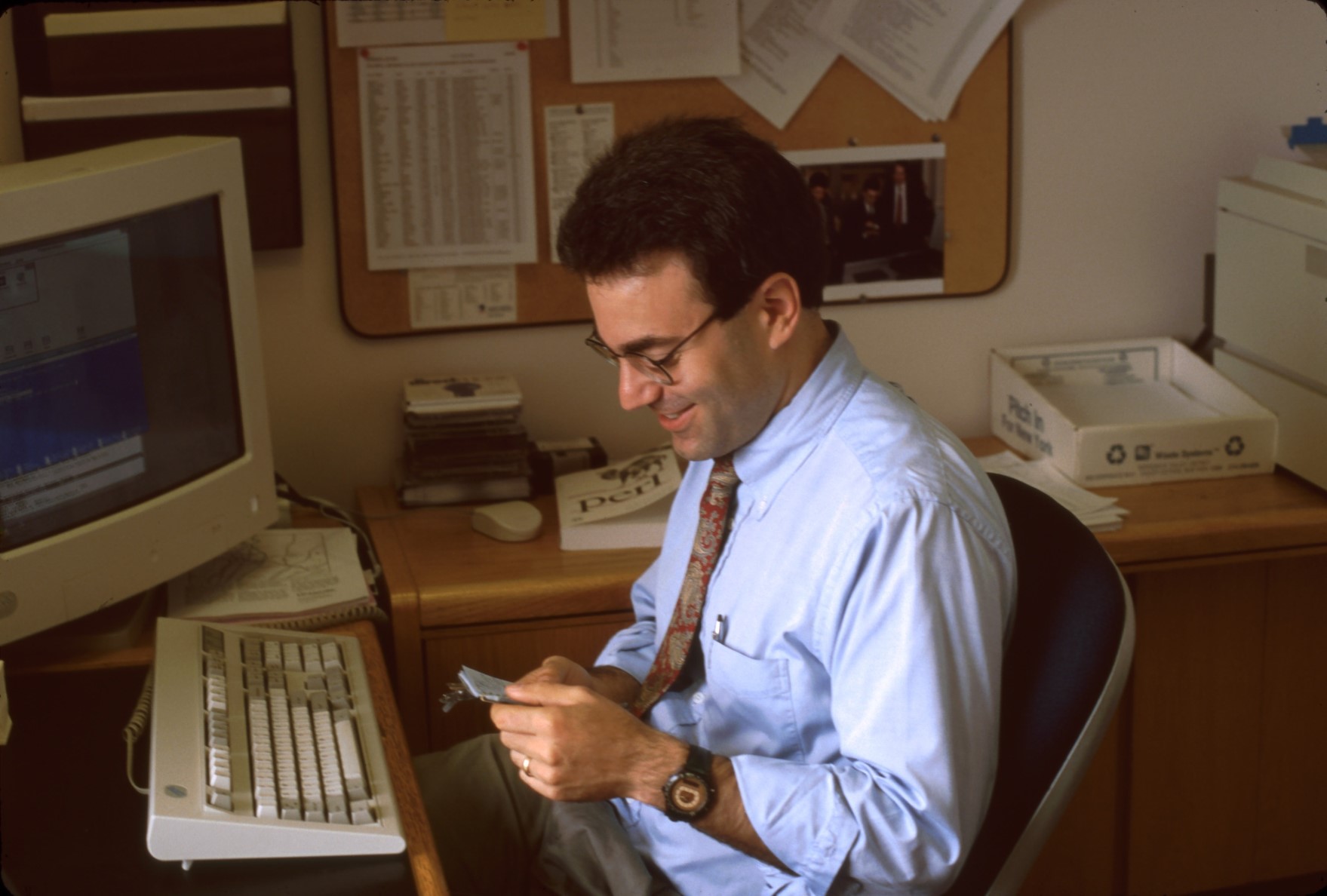 "I felt like I found my way," he said. "I was doing computing and math, but applying it in an area I just spent seven years learning about. One of the things that pushed me to medicine is the feeling that you are doing something useful, that it was something we could apply to people." 
Hripcsak fondly remembers the earliest days of the department, when Clayton brought together many future giants within the field, including Robert Sideli, Soumitra Sengupta, James Cimino, and Carol Friedman. The initial goal of the center was drawn by Clayton — Hripcsak's mentor in the field — on a piece of paper and handed to a group of junior researchers who were too naïve to realize the challenges ahead.
"He handed us a printing of a schematic of what the next generation clinical information system would look like and basically said 'Build this'," Hripcsak said. "We got around to building it."
'Useful' was what Hripcsak wanted for his career. He remembers one specific patient interaction that highlighted just how useful this field could be.
"I remember seeing an elderly woman who had arrived at 9 am to get her test results, but it was now 4:01 and that lab closed," he said. "There was nothing I could do, I couldn't get the results, so I had to send her home and tell her to come back tomorrow to see me directly. The thought that this information was just sitting there, locked in a room that we couldn't get to was upsetting. We built this system where we got access to all the data we had and made it available on the network. It's hard to believe, but there was a time when that was a new thing."
From the street-crossing surgeon to the patients who wouldn't waste days for results they'd never see, the information system fundamentally changed clinical care at NYP.
"George has been a major contributor to the advancement of Information technology at NYP," said Steven Corwin, President & Chief Executive Officer of New York-Presbyterian Hospital. "Whether it was his invaluable help with Epic, natural language processing or advancing projects in AI he has been a true gem for our institutions."
While the system continues to enhance care at NYP, it also highlighted the possibilities that could come from within this new center, which would eventually be chaired by Ted Shortliffe until 2007. Hripcsak credits Shortliffe, one of four from DBMI to have received the Collen Award, for enhancing the PhD training program inside DBMI.
Hripcsak became chair in 2007, and he blended both the focuses of Clayton and Shortliffe into his own philosophy.
"We focused on a few things in the department, like electronic health records and data science," he said. "There was a new wave of data science coming in. EHR became more important. Deep learning became important. We hired a number of young researchers and were strongly supportive of the idea of doing your own research, but also having a central focus."
His earliest hires, including Elhadad, Chunhua Weng, Nicholas Tatonetti, Raul Rabadan, and David Vawdrey brought varied interests to a department that could now focus on the widening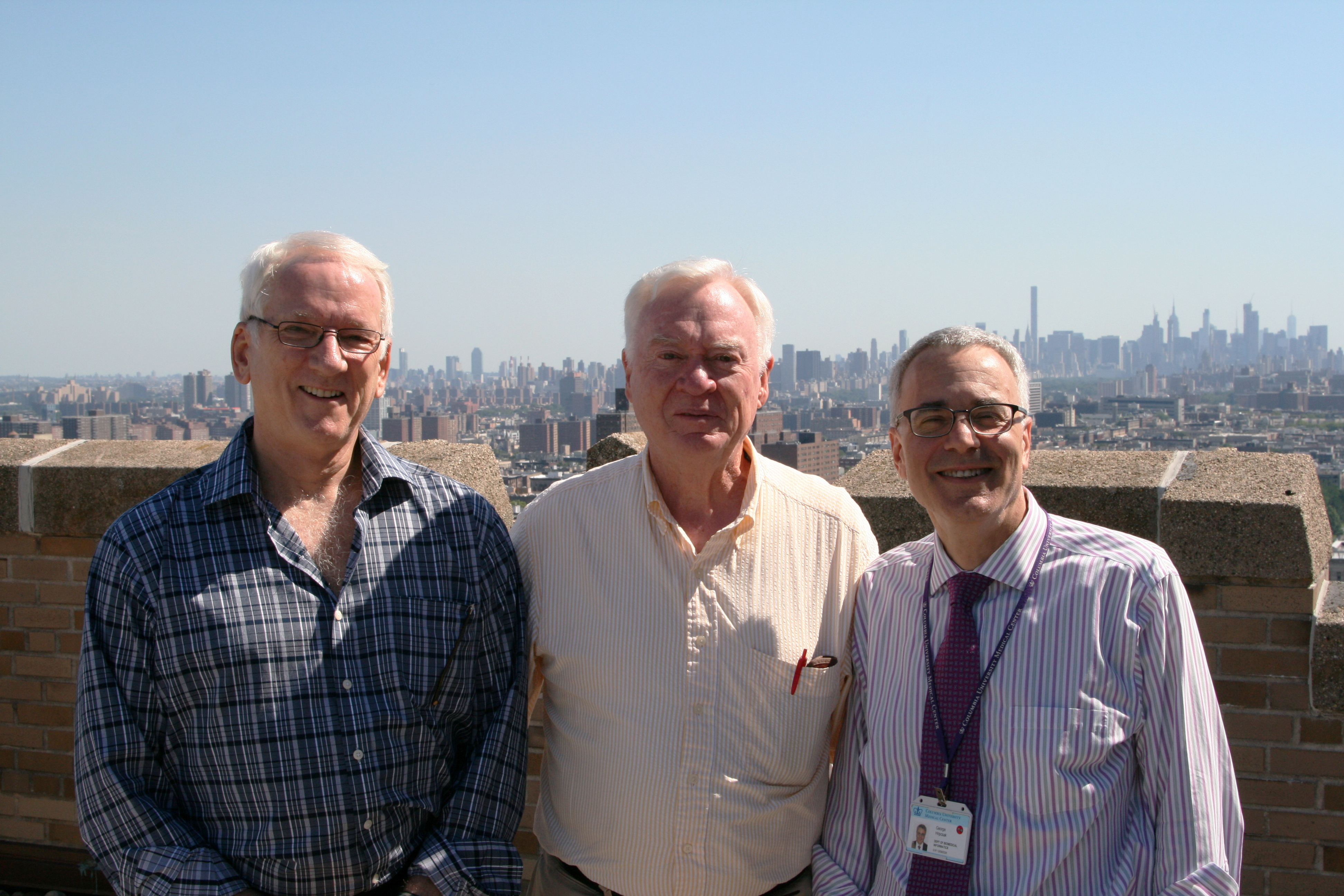 The first three chairs of DBMI (L to R): Ted Shortliffe, Paul Clayton, and George Hripcsak
range of informatics possibilities. At the same time, PhD graduates were beginning to gain leadership positions within both industry and academia. As of 2022, more than 40 DBMI graduates are chairs, directors or executives.
Informatics Advances
While the department currently stands as one of the nation's academic informatics leaders, Hripcsak himself has led several critical advances in the field during his time at Columbia.
One of his earliest contributions was the development of the Arden Syntax, a standard for clinical decision support which was created in the late 1980s by an inter-institutional group of researchers. His early implementation of Arden Syntax at Columbia—and demonstrations of knowledge sharing with other institutions—showed the syntax's potential. The early results helped propel Arden into becoming an ASTM standard in 1992. In the late 1990s, the Arden Syntax was integrated into HL7 and approved by ANSI, which has been coordinating its development ever since.
Cimino, one of the early center faculty members, was part of the team that developed the Arden Syntax.
"I remember George patiently explaining the standards development process and what we had to do to write an acceptable document," said Cimino, Professor of Medicine and Director of the Informatics Institute at UAB and another Collen Award recipient. "George really bent over backwards to get everyone's input and to make it look like a team effort, but he did the heavy lifting. George taught me how to think in new way – a way the considered all the logical possibilities before excluding all but one, which would be the right solution."
Another team effort would take place early in the 2010s, though this one extended far beyond the CUIMC campus. Observational Health Data Sciences and Informatics (OHDSI) officially began in December of 2013, and Hripcsak accepted the responsibility of leading the coordinating center.
David Madigan, now the Provost and Senior Vice President for Academic Affairs at Northeastern University, was also an original OHDSI collaborator. "George is a creative genius and has been centrally important to OHDSI from the get-go," said Madigan, a former Professor of Statistics at Columbia University. "He is also the best colleague one could ever imagine, kind and modest but absolutely brilliant. My biggest regret with moving from Columbia to Northeastern is not being able to work with George on a regular basis."
OHDSI has grown into a multi-stakeholder, interdisciplinary global collaborative that empowers more than 3,200 researchers from around the world to collaboratively generate real-world evidence that promotes better health decisions and better care. The OMOP Common Data Model has mapped more than 928 million unique patient records from across 453 databases, and OHDSI collaborators have published more than 500 peer-reviewed studies in several of the top medical journals, including The Lancet, JAMIA, The BMJ, Nature Communications, and others. OHDSI has made important contributions to major regulation decision-making, including impacting the 2021 European Medicines Agency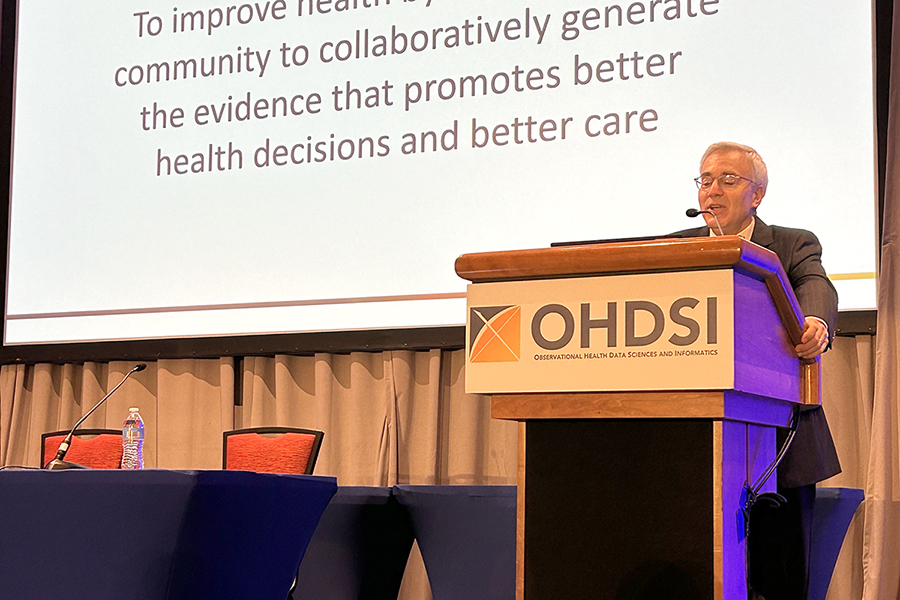 decision to end the suspension of the AstraZeneca vaccine, and partnering with the U.S. Food & Drug Administration Center for Biologics Evaluation and Research (CBER) on, among others, vaccine safety methods research.
Patrick Ryan, Vice President, Observational Health Data Analytics at Janssen Research and Development and DBMI Adjunct Assistant Professor, has worked with Hripcsak on every step of the OHDSI journey.
"George is the quintessential server leader, someone constantly looking out for the collective good and the advancement of others," Ryan said. "He is also a tremendous role model as a scientist. He is extraordinarily thoughtful and rigorous in everything that he gets involved in to make sure that he's very confident that the evidence generated is reliable and giving the right answers to important methodological or clinical questions."
"He is exactly the leader that the OHDSI community needed to get started and exactly the leader we need to continue to pull us forward," Ryan added. "Whether he is leading methodological research, supporting network studies, or he is finding new and better ways to get our community to collaborate more effectively, he remains a steady and positive presence that helps people believe that we can and will move forward together."
Data assimilation (DA) is a path that Hripcsak is navigating with David Albers. The duo has worked on introducing data assimilation 'as a computational method that uses machine learning to combine data with human knowledge in the form of mechanistic models in order to forecast future states, to impute missing data from the past by smoothing, and to infer measurable and unmeasurable quantities that represent clinically and scientifically important phenotypes' (see the full paper here).
"George understands the DA methods well, suggests needed methodological innovation, is an expert in devising new and meaningful evaluation methods to show DA works and may be impactful, and crucially, he is the bridge to the MD and clinical world," said Albers, Associate Professor in the University of Colorado Department of Biostatistics and Informatics. "It is exceedingly rare for a MD to also understand DA methods deeply, but George is one of those people, and so he can translate language, translate problems and issues, and form the bridge between worlds that, e.g., I cannot."
Hripcsak also collaborates with Columbia professors David Blei (Statistics and Computer Science) and Elias Barenboim (Computer Science) on causal inference.
"George and I have worked together on projects around machine learning for analyzing large-scale healthcare data," said Blei, who collaborated with Hripcsak on a pair of causal inference papers currently on a preprint server. "Lately, we have focused on how to make causal inferences from large-scale data of EHR records. George is a brilliant scientist, scholar, leader, and mentor. His work exhibits that rare combination of rigor, creativity, and real practical use."
Columbia Collaborations
While much of Hripcsak's own output has come through collaboration around the University, he has made sure others in DBMI have had the same opportunities.
One of the most important initiatives that was completed during Hripcsak's tenure as chair began far before he received that title. In 1999, he had an idea on an informatics initiative and sought the help of Kathleen McKeown, currently the Henry and Gertrude Rothschild Professor of Computer Science at Columbia. Though the idea didn't reach the finish line originally, it generated real interest and opened the door for a future opportunity.
New York City offered that such opportunity years later when it sought the creation of a data science initiative, and the pair connected again. McKeown led the proposal, and Hripcsak authored the Health Analytics part, and that was the first step to the Columbia Data Science Institute (DSI), which was established in 2013 and has more than 370 affiliated faculty and more than 850 M.S. alumni as of May, 2022.
Hripcsak has served on the DSI executive committee since its foundation, while several DBMI faculty members, including Elhadad, Suzanne Bakken and Lena Mamykina, have co-chaired the center. Many of the afore-mentioned collaborations Hripcsak is currently engaged in came via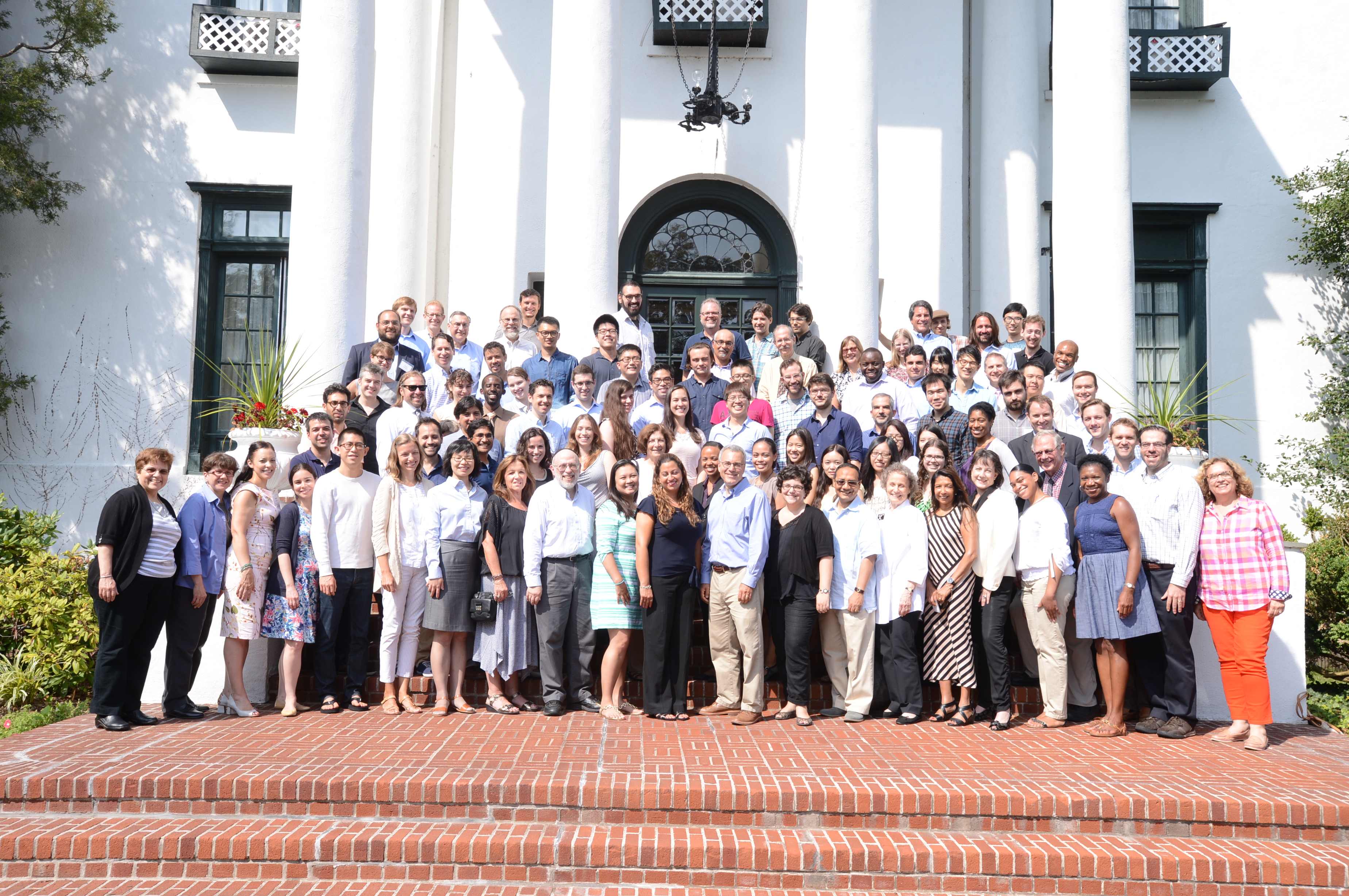 connections made within or through DSI (Madigan, Blei, Barenboim, Albers).
Jeannette Wing, Executive Vice President for Research at Columbia, joined the University as Director of DSA in 2017. "George was always there for DSI: participating in fundraising events, faithfully attending Executive Committee meetings, providing actionable advice, and in the end, serving on the DSI Self-Study committee, which led to a 140-page magnus opus," Wing said. "I cannot thank George enough for his service and intellectual contributions to DSI and to data science. George is an unassuming scientist with a big heart. Through his leadership of OHDSI, researchers worldwide have discovered new scientific insights and policymakers have justified decisions affecting millions. George is generous with his time and wisdom, a true collaborator and a supportive colleague."
DBMI enhanced its collaborations with other departments across the university as well over the last 15 years, and has welcomed several join appointments recently, including Soojin Park (Neurology) and Pierre Elias (Cardiology).
"Clinical medicine is where we apply our innovations, among other places," Hripcsak said. "We've always had join appointments and collaborations, and in the last couple of years, we have tried to accelerate that a bit more. Since the beginning, we have worked with the engineering school, computer science and other departments."
Of course, the collaboration with NYP has been critical to both the hospital and the department. From the early days of working on the network and security to current work on data, decision support and more, DBMI has become an integral part of NYP's recognition as one of the nation's best academic medical centers.
"Chinese philosopher Lao Tzu wrote 'Nature does not hurry, yet everything is accomplished.' Whether consciously or not, George lives this approach," said Daniel Barchi, who spent seven years as the Chief Information Officer at New York-Presbyterian Hospital. "His collegial partnership and calm, thoughtful approach is deceptive, because even as he takes time to team, mentor, confer, and think, he has steadily advanced the field of biomedical informatics nationally and DBMI at Columbia. A hallmark of his leadership is that he himself decided that his time as Chair should come to an end yet that we would continue to serve by remaining as faculty. George is a great leader, a great thought leader, and a class act."
Mentorship
Hripcsak joked that two people can always come in his office. One is the dean, and the other is his students.
Adam Wilcox would know that. A Professor of Medicine and the Director of the Center for Applied Clinical Informatics at Washington University in St. Louis, Wilcox was the first PhD student under Hripcsak. 
"I feel like I've connected with a lot of his early students about lessons learned from him," Wilcox said. "We all reflect back on him with immense fondness. Personally, I feel like he made me better because he naturally set such a high bar with his own abilities and accomplishments. I had to become a student worthy of his mentorship. I think that sense of striving to be better that he creates in those around him is his greatest influence."
Li Zhou, Associate Professor of Medicine at Harvard, focused her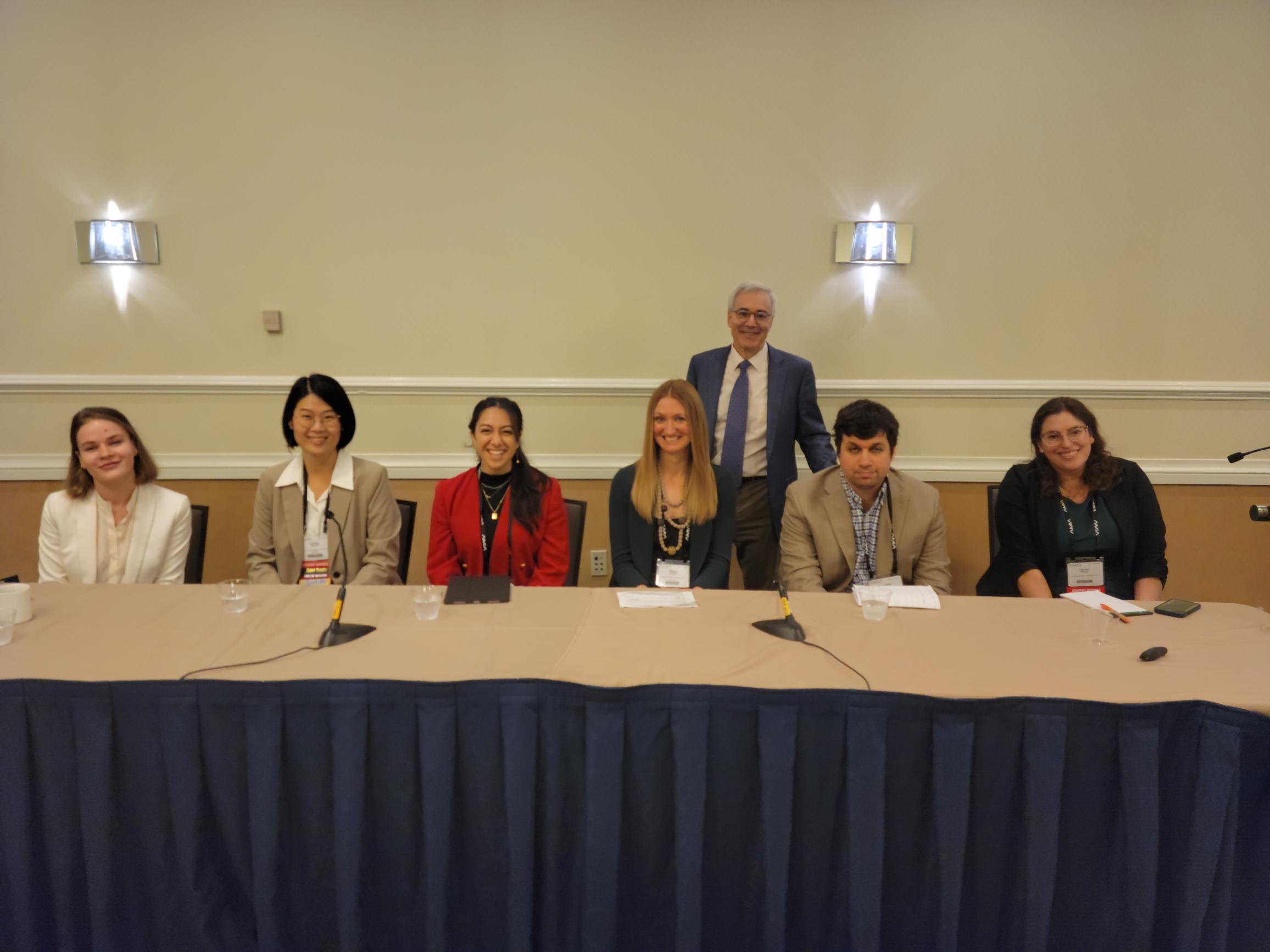 George Hripcsak and his trainees presented together at the 2022 AMIA Symposium.
her PhD thesis on temporal representation and reasoning. She recalls it being both interesting and challenging, but Hripcsak helped her break down the complex research problem into manageable tasks.
"He demands rigorous science and leads by example," Zhou said. "He provided me direction and gave me a space to explore and work. He believed in me and provided support when I needed. He steered me toward greater initiative, confidence and independence to explore and express my scientific ideas and helped me implement and test these ideas using real-world data."
The students reflect fondly on their interactions. The mentor does the same.
"The most fun part of my job is my students," he said. "I wouldn't want to give that up. I think it's important to keep doing research and teaching when you run the department so you remain in touch with what is going on. My students feel like they come first, because they do."
More than half the DBMI PhD graduates go into academia, including both Wilcox and Zhou. For those who worked with Hripcsak, they received more than an education in informatics; they received an education in educating.
"As an educator and professor, I learned from him to first identify the student's interests and potential, give them some options, help them be prepared, and always be there when the student needs help or support," Zhou said. "My PhD study was not always smooth, but he was always there to support me. He recognized my academic potential, nurtured my strengths, and helped me develop skills and strive toward excellence. He set an example for me with his passion and dedication to his students. I carry what I learned from him forward to my students and other young scientists."
Fifteen Years Leading DBMI
Elhadad was one of the department's earliest hires when Hripcsak became chair, so she has seen how both his vision and his leadership set the course for DBMI.
"George is a pioneer in informatics, and he set a course that many informaticians after him followed," she said. "He had a vision for where the field was going, and he brought in the people to help implement that vision here at Columbia."
Recruiting the right people is step one. Step two is empowering them to accomplish their individual goals while also strengthening the department as a whole.
"I tried to create an environment where people can succeed, and then let them do that," Hripcsak said. "Apply slight pressure where you need to, but let things happen."
His might have been the leading voice in the department for 15 years, but he made sure it was never the only voice.
"He values everybody's opinions," Elhadad said. "Our meetings are open and inclusive. We all felt like we had input in the department's direction. We felt equal."
"Many times, I have heard collaborators, ranging from informaticists, computer scientists, statisticians, MDs, and mathematicians, talk to me about how amazing George is, and while they all have variation in what they find amazing, the one common thread is his humanity, kindness and generosity," Albers said.
Albers will continue to experience those traits as they work together on data assimilation and mechanistic models. The OHDSI community will still benefit from his vision and his leadership, and his mentees will still know his door is always open to them.
It will just be a door to a new office.
"Fifteen years is a good amount of time to do the job," he said. "It's healthy for the department to see some change. There are 100 families that are depending on the department, and your job is to make sure the department stays sound. You know that, and you can't be paralyzed by that or you will fail. Still, after 15 years of taking that seriously, it will be OK not to do that for a while."
The department did far more than stay sound. It has trained many within the next generation of leaders who will establish new paths in informatics. It has demanded of itself the most rigorous research possible, so that the output is reliable for the patients in need.
And it embodies the man who led it for a decade and a half.
Nice. Bright. Hard-working.
by Craig Sachson