CUIMC Trio Takes Leadership Roles Within Ongoing 25x5 Initiative; Rossetti To Serve As Task Force Chair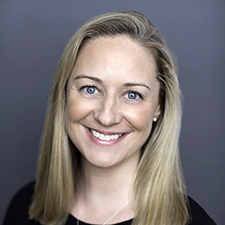 Three members of the Columbia University Irving Medical Center community have been selected as leaders within the 25×5 Initiative to Reduce Documentation and Optimize the Electronic Health Record, which is currently being driven by the American Medical Informatics Association (AMIA).
The 25×5 Initiative, a project that was co-led by the Columbia Department of Biomedical Informatics, was developed to establish strategies and approaches to reduce clinician documentation burden on US clinicians to 25% by 2025. Sarah Rossetti, RN, PhD, FACMI, FAMIA, Assistant Professor of Biomedical Informatics and Nursing at Columbia University, has been elected chairperson for the AMIA 25×5 task force.
Dr. Rossetti was an original co-chair of the initiative; she helped develop and lead the six-week 25×5 Symposium, which brought together more than 300 leaders within the healthcare community to set the foundation for those efforts early in 2021. All materials from this event, including more than 40 video presentations, are available here.
"Healthcare professionals need to be able to focus on the important work of caring for patients, but their time and resources are challenged by the growing problem of clinical documentation burden," said Dr. Rossetti. "Documentation burden is complex with numerous contributing factors and we need to move beyond describing the problem to identifying actionable recommendations that will result in solutions to benefit clinician well-being and patient care."
Dr. Kenrick Cato, PhD, RN, CPHIMS, Assistant Professor at the Columbia University School of Nursing and Nurse Researcher at NewYork-Presbyterian Hospital, was also an original member of the 25×5 steering committee, and he will now serve as an AMIA Board Liaison.
Dr. Victoria Tiase, an alumnus of the Columbia University School of Nursing and the current Director of Research Science at New York-Presbyterian Hospital, has been elected as a task force member leading the Policy/Advocacy Workstream.
You can follow the ongoing efforts of the 25×5 Initiative on its AMIA homepage.