Dr. Forman Leads NYP Collaboration With Inwood Early College
NewYork-Presbyterian, City University of NY (CUNY), Microsoft, and Inwood Early College (IEC) joined together in 2013 to introduce New York City high school students to information technology in a health care setting. NewYork-Presbyterian recently hosted the IEC 11th graders in the Morgan Stanley Children's Hospital Wintergarden to celebrate the successful culmination of three years of mentoring.
"It's always a pleasure to welcome Inwood Early College students to NewYork-Presbyterian and celebrate the completion of another successful cycle of mentoring,"said Dr. Bruce Forman, Associate Professor of Biomedical Informatics at Columbia University Vagelos College of Physicians and Surgeons, who also oversees NewYork-Presbyterian's collaboration with IEC. "We hope we've been able to give the students some guidance over the last three years, and we've very much enjoyed their questions and enthusiasm. We're happy to open our doors and share in their celebration."
NewYork-Presbyterian has been a proud industry partner of IEC since the 2013-14 planning year. Forman, an original leader on the NewYork-Presbyterian side of this collaboration, is among the approximately 50 hospital staff who mentor the high school students. One Friday each month, these mentors meet with subsets of students between the ninth and 11th grades to introduce and educate them to the many areas within the health and information technology discipline as well as familiarize them with the nature of work, the workplace, and professionalism.
"What we do, as industry partners, is provide work-based learning for the students," Forman said. "We have sessions on things like how to write a resumé, how one handles a job interview, and aspects of college preparation and college selection."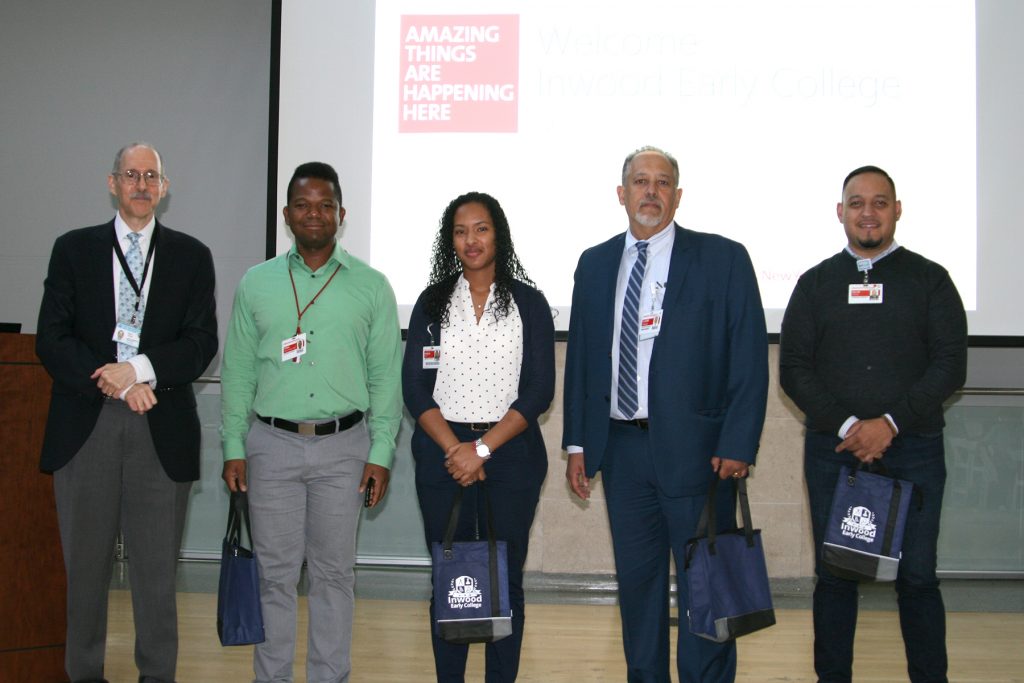 The students continuously impress Forman and his colleagues with their curiosity about health and information technology. He admitted that the "mentors were more nervous than anybody" at first, but Forman finds great inspiration from these motivated students.
"The only entrance requirement is that you demonstrate an interest in the theme of the school," said Forman, who is also a Director in Information Services at NewYork-Presbyterian and a Department of Biomedical Informatics (DBMI) faculty member since 1994. "At this stage in my career, education and training are very important to me."
This partnership also aligns with the National Library of Medicine (NLM) objective of developing a diverse work force. Forman said that approximately 96% of the IEC population are students of Hispanic/Latino or African-American heritage, many of whom travel from the Bronx to the school located in the uppermost neighborhood (Inwood) of Manhattan.
"There are a number of students who haven't had the easiest time in life, but this school really provides them opportunity," said Forman, who specifically praised principal Samona Tait's leadership at IEC. "They are curious. They ask a million questions. And they're New Yorkers, so they're not shy."
Forman shared recent successful results from IEC, including higher SAT scores, Regent scores, graduating percentage, and amount of college credits accrued than the average high school in either New York City or the state of New York.
Success hasn't been limited to the students. Forman accepted the 2018 New York City Department of Education Career and Technology Education Partner of the Year Award on behalf of NewYork-Presbyterianin December. He looks forward to building upon the partnership and introducing the health and information technology fields to new classes of interested students in the future.
"Partnership and inspiration are at the center of our strong relationship with CUNY, Microsoft, the IEC staff, and most especially the IEC students," Forman said. "With a little guidance and direction, there is no limit to the opportunities available to these wonderful young people."