Class of 2021 Profile: Clinical Informatics Fellow Eugene Lucas
Passions for both science and helping patients led Eugene Lucas to the medical field. He found a way to merge those throughout his DBMI clinical fellowship, and he graduates prepared to make a sustained impact on healthcare.
Lucas's interest in medicine started early, and it started at home. His mother was a nurse, and his sister Valerie would follow in her footsteps. He already had an interest in the area, and an "Exploring Careers in Medicine" high school camp opened his eyes to the diversity of opportunities within healthcare. His journey towards informatics, however, would come later.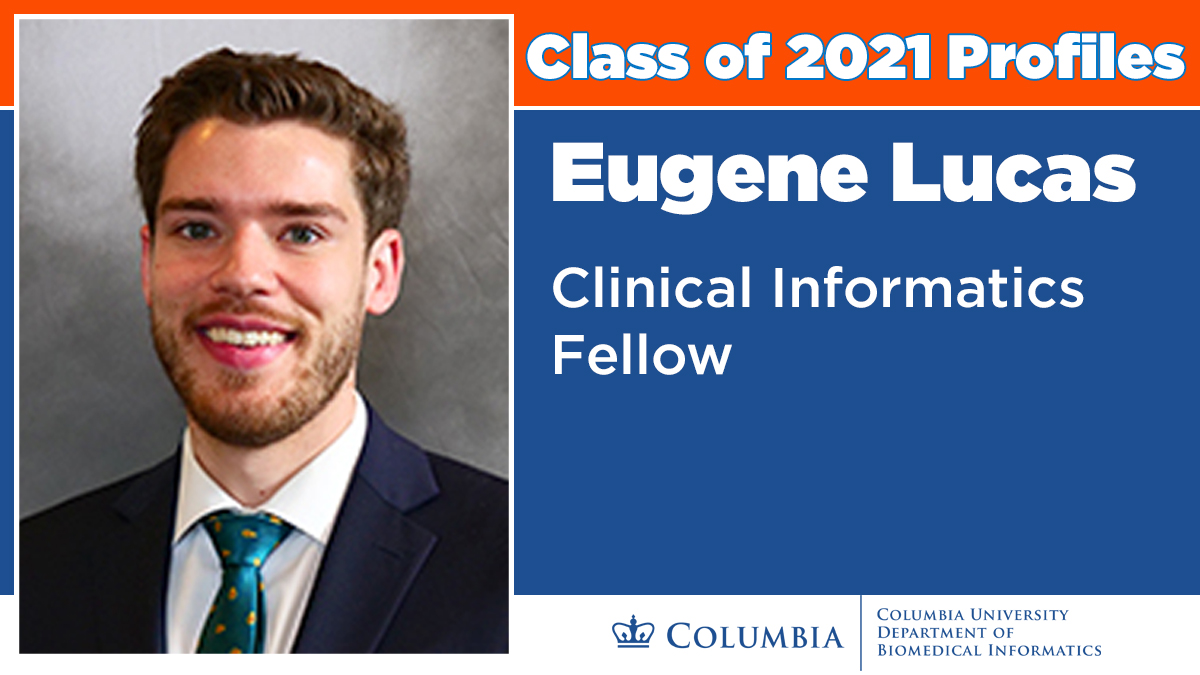 Lucas earned his Bachelor of Science degree at the University of Scranton, and his MD degree at Drexel University. During his internal medicine residency at Northwell Health, he worked on implementing a rapid response order set to streamline the process and assure the maximum clinical focus would be spent on the patient. 
That nine-month project, which has gone live in 19 hospitals, showed Lucas the positive potential technology could make on patients' lives. He interviewed at Clinical Informatics programs across the nation, but in his mind, one program shined a little brighter than the rest — the Clinical Informatics Subspecialty Fellowship co-sponsored by Columbia's DBMI and the NewYork-Presbyterian Hospital (NYP). This two-year fellowship has been accredited by the Accreditation Council for Graduate Medical Education (ACGME) since 2016. It is housed within the Internal Medicine program but is open to all specialties, and one slot opens each year.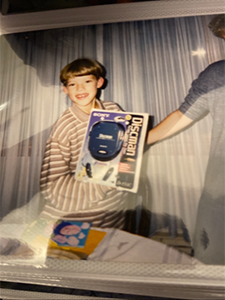 "Columbia stood out for the history and the legacy of its program, and the number of faculty members who were global leaders in their fields," Lucas said. "There was nothing this program wasn't able to offer. Within the first couple of months of the fellowship, it was like the field of informatics was expanding before my eyes; each week I learned of exciting projects at NYP-CUIMC either already underway or about to begin. In this way and many others, the program and hospital system quickly exceeded the lofty expectations I had for them."
One of the first projects that Lucas engaged in was the eMOLST (Medical Orders for Life Sustaining Treatment) Integration project, which uses a third-party registry to extensively document patients' end-of-life preferences and have it available for emergency departments, in-patient units and out-patient providers. He assumed a leadership role while this project was in its infancy, and his efforts have helped it extend across the NYP clinical landscape.
"Eugene demonstrates a strong desire to leverage informatics principles and solutions to improve the health of patients and the work of clinicians," said Bruce Forman, who leads the Columbia Clinical Informatics Fellowship Program. "He has been co-leading a project to integrate our institution with the New York registry housing information about medical orders for life-sustaining treatments which will greatly enhance continuity of care. He has also participated in a number of aspects of the implementation of the new Epic electronic health record system and has demonstrated significant initiative in helping us to continuously improve our fellowship program."
Lucas also joined the steering committee for the 25×5 Symposium to Reduce Documentation Burden on U.S. Clinicians by 75% by 2025. This six-week symposium, which set the groundwork for ongoing work, focuses on another area of passion for Lucas.
"There has been a need for this for many years," he said. "We've known about [documentation burnout] as clinicians. What was understood years ago about efforts like this is that they are very complicated. It connects to policy, internal organizational structure and culture, individual clinician habits, vendors and what the EHR can offer."
The steering group brought together a multi-disciplinary set of leaders to share their perspectives on both the wide range of challenges and the work already being done to address them. Lucas, who helped lead a presentation on COVID-19 documentation, believes this was the forum needed to help bring about change.
"What made me so proud to be involved was the number and type of leaders that we were able to bring together," he said. "It felt like we had enough representation to begin the conversation and prepare for more meaningful progress."
Positive leadership has been there for Lucas throughout his two-year fellowship at DBMI, including his advisor, Forman, and Soumitra Sengupta, Associate Professor of Biomedical Informatics, as well as Vice Chair of Operations and Director, NYP.
"[Bruce] has been with the department for so long, any time I need to be connected with someone, I had a meeting scheduled with them in a matter of days," Lucas said. "More than that, he provides the wisdom to help me not miss the forest for the trees. There is an artistic side of informatics that is hard to teach without relating experiences and stories, and Bruce has that in spades."
"He introduced me to management approaches that I have been utilizing in various projects all throughout the fellowship," Lucas added. "His depth of knowledge in the field allows him to create a strong foundation within the fellows. I can't say enough about how much I've learned from both he and Sen over the last two years. The guidance and insight they have into both the institution and informatics field, have helped me to achieve success."
He will follow another interest upon leaving Columbia. This fall, Lucas will start a one-year obesity medicine fellowship at Cornell, where he is looking forward to working on yet another wide-ranging challenge.
"Obesity is under-treated across the world," Lucas said. "Medication isn't appropriate for everyone, but there are a lot of people who are candidates for medication who aren't getting it. There is more opportunity to provide care both in visits and outside of visits for obesity patients in a way that a patient-engagement platform can support. I know my training at NYP-CUIIMC will help me to leverage informatics principles for providing more comprehensive, patient-centered care in the treatment of patients suffering from obesity."