Class of 2021 MD-PhD Profile: Lisa Grossman Liu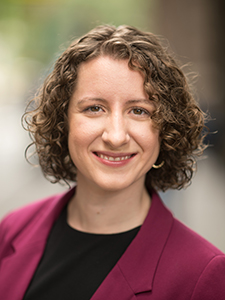 From her time in Zambia working on challenges around cervical cancer and HPV vaccine introduction to her future plans of working towards a better EHR system within the pediatric healthcare community, Lisa Grossman Liu has always focused on making an impact for the patients.
That ambition drove her desire to find the right MD-PhD program, which she sees as the ideal way to bring the impact of biomedical informatics to the community that needs it most.
"My feeling was that in order to do interventions in a clinical setting, you need to have a clinical background," said Grossman Liu, who completed the PhD portion of her program within the Columbia Department of Biomedical Informatics (DBMI) earlier this year. "Being in-touch with what's happening on the ground is necessary to do impactful research."
After studying both biology and global health at Duke University, Grossman Liu was one of 80 Global Health Corps fellows selected from over 1,000 applicants to work at the Centre for Infectious Disease Research in Zambia (CIDRZ). Besides developing a 300-page textbook on cervical cancer development, she was named to the national working group for HPV vaccine introduction in Zambia. During this time, she also founded and directed a for-profit design collaborative to do consulting in health software development.
While her international efforts remain valuable—the textbook is used in 17 countries—she returned to the United States ready to pursue a different career in medicine. Her original plan was to pursue a degree in the Mailman School of Public Health, where she started to work with her eventual advisor, David Vawdrey. That plan evolved as she learned more about DBMI.
"DBMI was a rocket ship," she said. "The funding was increasing for informatics. I felt like there were methods in DBMI that were new and up-and-coming. There were exciting projects that were more in line with the skills I had in software engineering. I saw that the field was expanding, and I decided to make the switch."
She focused on several projects during her time at DBMI, including studies of high-value, high-impact features in acute care patient portals, such as sharing doctor's notes. She was lead author on the 2018 JAMIA publication "Implementation of acute care patient portals: recommendations on utility and use from six early adopters," which aimed to provide recommendations on how to most effectively implement advanced features of acute care patient portals.
One complex issue currently challenging the healthcare community is medical abbreviations and acronyms, which can impair communication. Grossman Liu led a study that used machine learning to engineer the most complete compilation of medical abbreviations and acronyms to date (A deep database of medical abbreviations and acronyms for natural language processing) which was published over the summer by Nature Scientific Data.
Grossman Liu was also lead author for the JAMIA publication "Interventions to increase patient portal use in vulnerable populations: a systematic review," which systematically reviewed the impact of interventions designed to either increase portal use or predictors of use in vulnerable patient populations, or reduce disparities in use.
Trying to positively impact vulnerable patients came as no surprise to Vawdrey, who noted his student's well-rounded nature and the impact she had on the people who needed it most.
"Lisa is not only a brilliant scientist but also a wonderfully kind person," he said. "Her doctoral research required her to interact extensively with some of the sickest patients in the hospital, with their families, and with our clinical teams. Lisa excelled at building bridges of trust and collaboration—both academically and personally—as she endeavored to help patients better understand the complex world of healthcare."
Vawdrey remained her advisor throughout her MD-PhD track. Grossman Liu also credits the wealth of knowledge within the department for enhancing her research.
"I had access to a lot of really intelligent people who provided the resources I needed to push my own research program, and also provided feedback and input on ideas to improve that program," she said. "That's the real benefit of DBMI. It is such a robust department, and they have so much support for the students. The faculty is very accessible."
The MD portion of Grossman Liu's journey remains ongoing, but she has her sights set on where she can make her next impact, which includes EHR automation, supporting innovation in health software engineering, and making it easier for physicians to make changes needed to support daily workflow. She is specifically focused on challenges in pediatric healthcare, which she unfortunately sees too often as a future pediatrician.
"Much of the application of informatics in pediatrics has to do with safety," she said. "For example, vital signs correspond with the age of the child, but it is not currently built into our EHR to do that automatically. The EHR might evaluate a 2-year-old's heartbeat based on an adult normal range, which is ridiculous. It's great that we have all this research into high-powered algorithms, but the solutions that are needed oftentimes are more simple and straightforward gaps in care that are occurring."
Grossman Liu can list plenty more issues around pediatric care that she wants to address, and she has discovered most of them within her daily clinical work. It reinforced her original focus on the MD-PhD program, and she hopes others will follow.
"The informatics community is incredible, but there are problems out there that they just might not be aware of yet," she said. "We do have cross-talk with physicians, but we could always have more integration with the medical community. I strongly believe we should be taking as many MD-PhD students as possible for that reason."