Non-Traditional Thinking Guides Nicholas Tatonetti, Ph.D., To Important Advancements In Health, Healthcare
Nicholas Tatonetti solves problems. He has always enjoyed it, and as the informatics community has discovered, he is both creative and proficient in his methods.
Tatonetti, who was recently awarded tenure and promoted to the rank of Associate Professor in the Columbia Department of Biomedical Informatics (DBMI), focuses on the use of advanced data science methods, including artificial intelligence and machine learning, to investigate medicine safety. Using emerging resources, such as electronic health records (EHR) and genomics databases, his lab is working to identify for whom these drugs will be safe and effective and for whom they will not.
His path to DBMI wasn't a traditional one, but that fits his work. Since joining the department in 2012, Tatonetti has used non-traditional thinking to benefit both health and healthcare.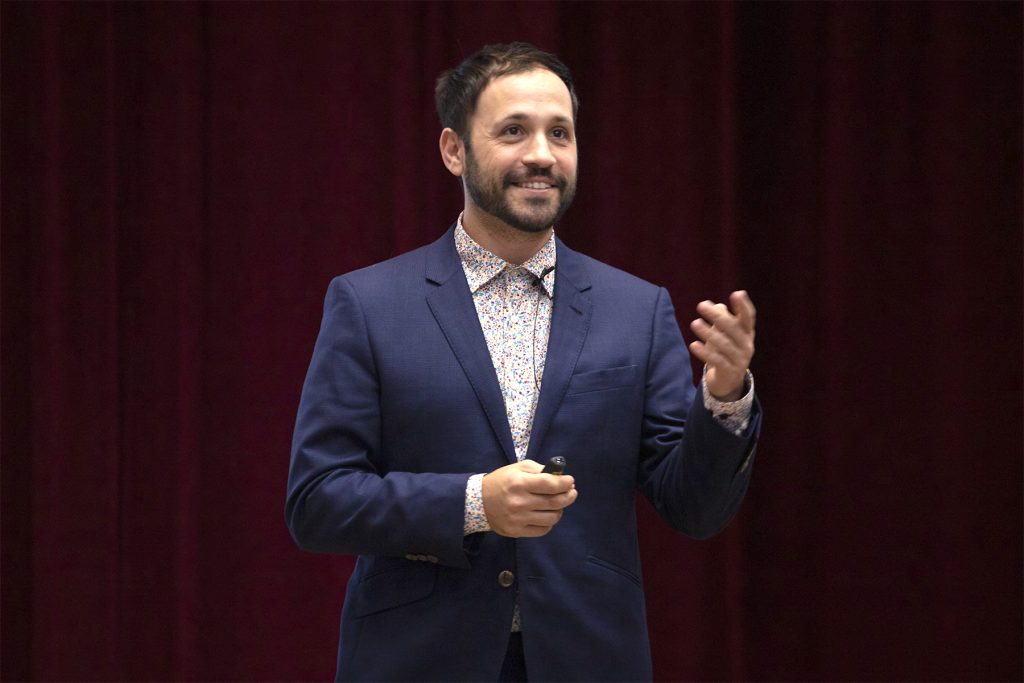 Data Mining To Save Lives
His path to DBMI wasn't a traditional one, but that fits his work. Since joining the department in 2012, Tatonetti has used non-traditional thinking to benefit both health and healthcare.
Utilizing both data mining of medical records and prospective lab experiments, Tatonetti created a methodology for both finding and validating adverse drug reactions and drug-drug interactions. During a two-year collaboration with Pulitzer Prize-winning journalist Sam Roe of the Chicago Tribune, Tatonetti discovered that the drugs ceftriaxone and lansoprazole, when taken together, induces an arrhythmia in the heart.
The data mining identified adverse effects, while the lab experiments established causality. Tatonetti wasn't specifically looking for a negative reaction of those particular drugs; he had no reason to suspect them.
"We are able to find things that nobody expects to happen because the world of hypotheses we consider is basically everything," he said. "We consider every possible combination, a type of analysis that would be impossible without a huge data set and significant computational power."
The work was published in the Journal of the American College of Cardiology in 2016, while Roe's Tribune feature on it was a 2017 Pulitzer finalist in Public Service.
"Working with Nick was one of the highlights of my career," Roe said. "Obviously, he is a first-rate, pioneering scientist; his brain-power is off the charts. But what really impressed me was his generosity, enthusiasm and heart. He was extremely encouraging and open-minded about new ideas and not afraid to aim high and say, 'Let's go for it!'"
From Emergency (Contact Forms) To Heritability
While Tatonetti's validated findings in the drug-drug interaction study answered a critical medical issue, his recent findings published in Cell provides a foundation for future research questions.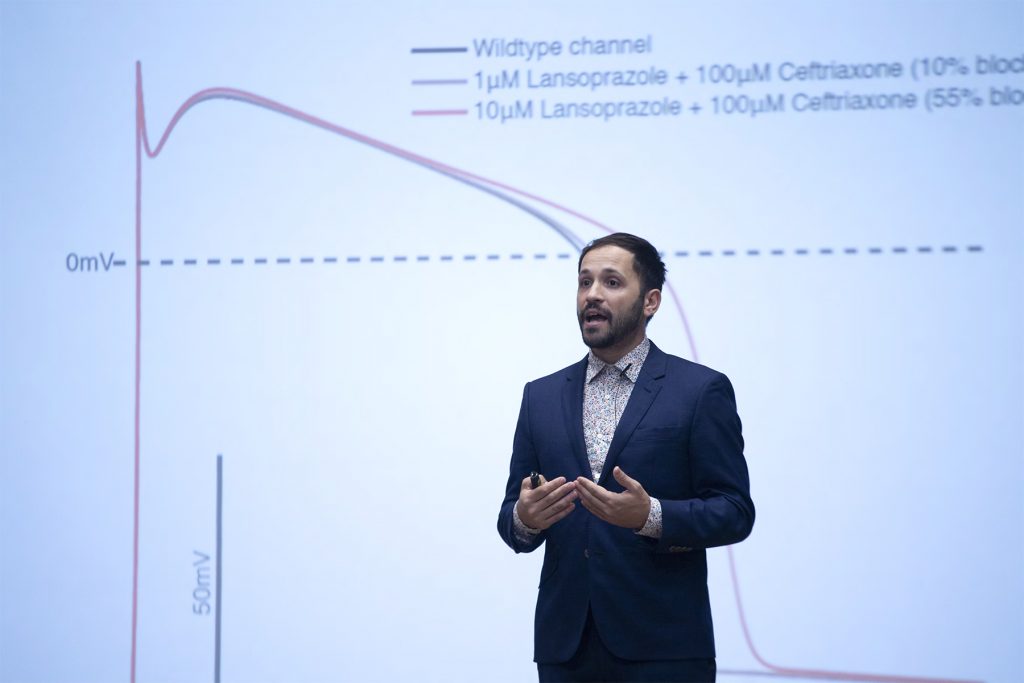 The Tatonetti Lab invented a method for inferring familial relationships from EHR through emergency contact forms; his findings were published in Cell. (Photos courtesy of Health Research Symposium 2019, The Government of the Hong Kong SAR)
His lab invented a method for inferring familial relationships from EHR through emergency contact forms. Using these, he conducted the largest systematic study of disease heritability to that point and found significant heritability for 500 phenotypes, the vast majority of which have never been studied before.
"We leveraged the electronic health record data set in a way that had not been done before to study the genetic mechanisms of disease without having any genetic data available," Tatonetti said. "It's a starting point for further research, and it opens an avenue of research that wasn't available before. Multiple papers have been published off of those results and my collaborators are looking at screening rates of disease. Before now, the hospital did not have a way to assess whether or not they were screening people effectively."
One example is the screening methods for celiac disease. He explained that hospitals are advised to screen all first-degree relatives with celiac symptoms, but there was no way to know the relationships between all patients. Tatonetti's study indicated that only 50% of potential celiac patients were being screened. His lab is also using this method to study other diseases, such as breast cancer.
Journey To Columbia
Tatonetti couldn't have predicted these accomplishments, and several others, while growing up on a horse farm in northeast Ohio. He may have been a junior national champion rider in his youth — he excelled in reining then, and he recently rediscovered that joy as a jumper — but college itself wasn't an early motivator for him.
It wasn't until he tested other professions and studies, including car insurance sales and film school, that he focused on his scientific passion at Arizona State.
Nicholas Tatonetti continues to investigate ways to partner science and medicine for the benefit of healthcare.
He earned both his master's and Ph.D. in biomedical informatics at Stanford, where he found his passion for data mining, observational data analysis and machine learning. Technology was always a passion for him, but now instead of designing background image apps for early iPhones — 'DockSwap' and 'Customize' were two of his more popular creations — he was ready to study medicine safety.
Tatonetti considered staying at Stanford, but Columbia had significant advantages that ultimately brought Tatonetti across the country.
"The integration of the department with the hospital and the access to data is just unparalleled," he said. "The opportunity to get informatics-type work done here is huge. I knew if I came here, almost immediately, I'd be able to do the type of research I wanted to do. The other reason I came here is because of the students. Everyone has diverse backgrounds, but they have a desire to bring informatics methods and data science methods into medicine."
Looking Ahead
Building on both the drug safety and cell paper research, the Tatonetti Lab is working on several important medical questions presently.
"We are looking at the genetic mechanisms of adverse drug reactions," he said. "We are studying novel ways to phenotype patients in the EHR, and to identify the genetic differences in those phenotypes. We are creating integrative methods for drug discovery, whether it is new pharmacological pathways to treat diseases or whole new paradigms for how drugs work. We're also exploring neural networks for their clinical utility. Can they improve the performance of our phenotyping, or our predictive analytics? Basically, we're looking for anywhere tech and medicine can be combined to advance scientific discovery."