From Informatics To Social Research, Dr. Mollie McKillop Took All-Encompassing Approach To Study Endometriosis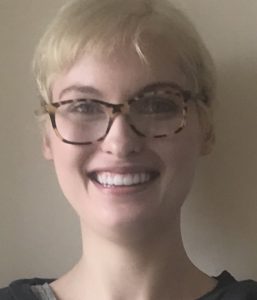 Dr. Mollie McKillop knew little about endometriosis before beginning her PhD journey at the Columbia Department of Biomedical Informatics (DBMI). By the end, she had immersed herself in enough areas of the disorder that thesis committee members asked just how many PhD degrees she was actually pursuing.
McKillop earned her PhD this past spring, the completion of a process that was "difficult, but amazing." Her decision to work in endometriosis — a prevalent painful condition in which tissue similar to the one that lines the inside of the uterus (the endometrium) grows outside the uterus — allowed her to broaden the scope of her work.
"There are a lot of interesting scientific questions about the disease that are unanswered, but there are also social questions as well," McKillop said. "It's one of the reasons I was drawn to it, there was so much opportunity in it."
"Getting a PhD has actually taught me how little I know," she added. "When you try to understand a problem further, you realize how many unanswered questions there actually are. For an area that is so under-researched, once I answered one question, I came up with another as a result of it."
From an informatics perspective, McKillop worked on designing the Phendo app, which collects data via a self-tracking system for women with endometriosis for the sake of phenotyping the disease. The app, first introduced during the fall of 2016, also allows those affected to self-monitor their own experiences to potentially help manage the disease. McKillop, together with colleagues from her lab, used machine learning techniques to identify potential subgroups of patients.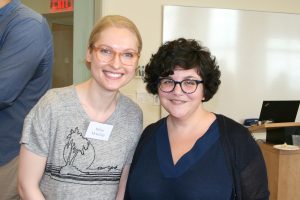 The Phendo app was developed as part of the Citizen Endo project, a Columbia research project led by DBMI. Noémie Elhadad, PhD, the principal investigator for Citizen Endo, served as McKillop's advisor."It was rewarding to mentor Mollie on this project in particular," Elhadad said. "We quickly realized that in order to make a meaningful contribution to a patient-centered view of endometriosis, we would have to tackle many research questions at once, which had very different set of skills required to address them, but at the same time, made what informatics is at its core: a truly inter-disciplinary field of work. Mollie didn't shy away from this challenge, and she became fluent at a range of skills, from conducting focus groups with patients to create a mobile app to conducting network-wide observational study with OHDSI [Observational Health Data Sciences and Informatics]."
McKillop, a NLM Training Fellow who earned the Top Clinical Poster award at the 2018 OHDSI Symposium (Endometriosis Phenotype Development, Validation, and Characterization), also enjoyed the social component of her research, as described in her published workin the SIG CHI proceedings in 2018.
"I was able to interact directly with patients, so I could see the impact that the work was having," she said. "Using informatics, I was able to collaborate with excellent people, including endo experts and technology experts. I worked with all of these people in different areas."
McKillop will remain in New York City — where she walked, hiked and played intramural soccer to balance the PhD challenges — to work as a scientist for IBM Watson Health. She also credits her five years at DBMI for providing a wide-ranging foundation of methods and core knowledge to provide her a variety of professional options.
With such a wide breadth of research, McKillop — a native Californian who earned her Master's in biostatistics at Columbia — believes she found the perfect home for the PhD.
"Columbia is the leader in informatics," she said. "The level of experts who are recognized leaders in their respective field is really amazing. We have expertise in almost every area of informatics. We are in the hospital, so there is very good collaboration between academia and people who will actually apply what you are thinking about or developing."
"If you are interested in doing rigorous theoretical research, but you also want to make an impact, I think we're a good place to join," she added.
You can find Dr. McKillop's thesis here.