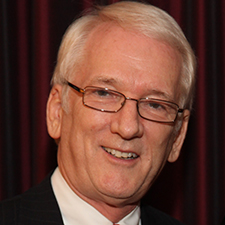 After receiving an A.B. in Applied Mathematics from Harvard College in 1970, Ted Shortliffe moved to Stanford University, where he was awarded a Ph.D. in Medical Information Sciences in 1975 and an M.D. in 1976. During the early 1970s, he was principal developer of the medical expert system known as MYCIN. After a pause for internal medicine house-staff training at Massachusetts General Hospital and Stanford Hospital between 1976 and 1979, he joined the Stanford internal medicine faculty. There he served as Chief of General Internal Medicine, Associate Chair of Medicine for Primary Care, Associate Dean for Information Resources and Technology, and director of an active research program in clinical information systems and decision support.
Dr. Shortliffe moved from Stanford to Columbia in 2000 when he was appointed Professor and Chair of the Department of Biomedical Informatics as well as Professor of Medicine and of Computer Science. He was subsequently appointed the Rolf A. Scholdager Professor of Biomedical Informatics and he served a variety of roles in both New York-Presbyterian Hospital and the office of the Executive Vice President and Dean of Columbia University Medical Center.
After being recruited in 2007 to Phoenix, AZ, to serve as founding Dean of the University of Arizona College of Medicine (Phoenix Campus), he served three years (2009-2012) as President and CEO of AMIA (American Medical Informatics Association). Returning to New York City in 2012, he now holds positions as Adjunct Professor of Biomedical Informatics at Columbia, Adjunct Professor of Health Policy and Research (Health Informatics) at Weill Cornell Medical College, Adjunct Professor of Biomedical Informatics at Arizona State University, and Senior Executive Consultant for IBM Watson Health. He continues to be closely involved with medical education and biomedical informatics graduate training. His scholarly interests include the broad range of issues related to integrated decision-support systems, their effective implementation, medical artificial intelligence, and the role of the Internet in health care.
Dr. Shortliffe is an elected member of the National Academy of Medicine, the American Society for Clinical Investigation, the Association of American Physicians, the American Clinical and Climatological Association, and the International Academy for Health Sciences Informatics. He has also been elected to fellowship in the American College of Medical Informatics and the American Association for Artificial Intelligence. He is a Master of the American College of Physicians (MACP) and was a member of that organization's Board of Regents from 1996-2002. He was Editor-in-Chief of the Journal of Biomedical Informatics from 2001-2020. In the early 1980s he was the recipient of a five-year research career development award from the National Library of Medicine. In addition, he received the Grace Murray Hopper Award of the Association for Computing Machinery in 1976, the Morris F. Collen Award of the American College of Medical Informatics in 2006, and has been a Henry J. Kaiser Family Foundation Faculty Scholar in General Internal Medicine. Dr. Shortliffe has authored more than 350 articles and books in the fields of biomedical computing and artificial intelligence, including a major textbook (Biomedical Informatics: Computer Applications in Health Care and Biomedicine, with J.J. Cimino, New York: Springer, 5th edition, 2020).