Sarah Rossetti To Be Inducted Into The 2021 Class of Fellows by the American Academy of Nursing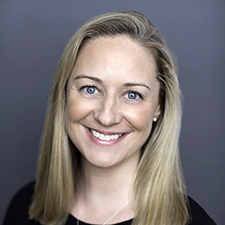 DBMI Assistant Professor of Biomedical Informatics and Nursing Sarah Rossetti, RN, PhD, FAAN, FACMI, FAMIA was recently announced as one of the 225 distinguished nurse leaders to be inducted into the 2021 Class of Fellows by the American Academy of Nursing (Academy).
The inductees will be recognized for their significant contributions to health and health care at the Academy's annual Health Policy Conference, taking place on October 7-9, 2021.
"I am thrilled to welcome another exceptional class of Fellows to the American Academy of Nursing during a momentous time of change and progress in our collective efforts to fulfill the organization's vision of healthy lives for all people," said Academy President Eileen Sullivan-Marx, PhD, RN, FAAN. "The Academy aims to improve health and achieve health equity through nursing leadership, innovation, and science. The Academy's Fellows embody our values of equity, diversity and inclusivity, inquiry, integrity, and courage, which enable us to achieve new heights of impact that advance health policy across the globe. Congratulations to this dynamic cohort of leaders who bring diverse experience and expertise to the Fellowship."
Dr. Rossetti's research is focused on identifying and intervening on system-level weaknesses – particularly those related to poor communication and care coordination – that increase patient risk for harm within our healthcare system by applying computation tools to mine and extract value from electronic health record (EHR) data and leveraging user-centered design of patient-centered and collaborative decision support tools.
She is co-chair of the 25×5 Symposium to Reduce Documentation Burden on U.S. Clinicians by 75% by 2025, and helped lead generation of the executive summary from the six-week symposium that included more than 300 stakeholders from the healthcare community.
A 2019 recipient of the Presidential Early Career Award for Scientists and Engineers (PECASE), Dr. Rossetti is an experienced critical care nurse and holds a PhD in Nursing Informatics from Columbia University School of Nursing. She was a National Library of Medicine Post-Doctoral Research Fellow at Columbia University's Department of Biomedical Informatics. She received her Bachelor of Science in Nursing from the University of Pennsylvania, where she minored in Health Care Management.
The newest Fellows represent 38 states, the District of Columbia, and 17 countries. In welcoming these Fellows, the Academy will be comprised of more than 2,900 nursing leaders who are experts in policy, research, administration, practice, and academia who champion health and wellness, locally and globally.
Through a competitive, rigorous application process, the Academy's Fellow Selection Committee, which is comprised of current Fellows, reviewed hundreds of applications to select the 2021 Fellows based on their contributions to advance the public's health.
This year's conference and induction ceremony will be offered in a hybrid format, allowing attendees to participate either in-person (at the Marriott Marquis in Washington, DC) or virtually.