Ted Shortliffe Receives 2023 Walsh McDermott Medal
From National Academy of Medicine
The National Academy of Medicine (NAM) recently honored Ted Shortliffe, DBMI adjunct professor and chair emeritus, with the Walsh McDermott Medal, which recognizes a member for distinguished service to the NAM and the National Academies of Sciences, Engineering, and Medicine over an extended period.
Shortliffe was elected to NAM in 1987. In addition to being on the NAM Council for six years, he also served two full terms on the membership committee and as chair of the full membership committee from 2018 to 2020.
His contributions also include several National Academies roles,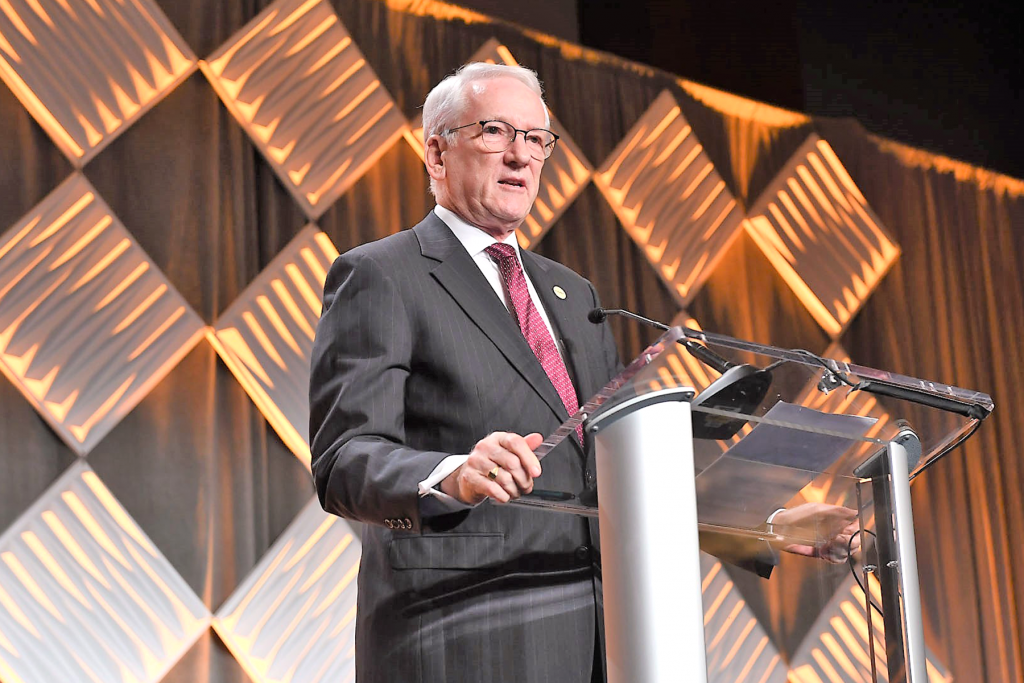 including as a member of the Computer Science and Telecommunications Board and the Committee on National Statistics, among others. In total, Shortliffe has been a member of 13 committees and chaired seven committees, including for the National Academies consensus reports Medications in Single-Dose Vials: Implications of Discarded Drugs and A Smarter National Surveillance System for Occupational Safety and Health in the 21st Century. He is a current member of the NAM's Health Policy and Health Care Systems committee and the National Associates Program.
Shortliffe joined Columbia in 2000 when he was appointed Professor and Chair of the Department of Biomedical Informatics as well as Professor of Medicine and of Computer Science. He was subsequently appointed the Rolf A. Scholdager Professor of Biomedical Informatics and he served a variety of roles in both New York-Presbyterian Hospital and the office of the Executive Vice President and Dean of Columbia University Medical Center.
He is an elected member of the National Academy of Medicine, the American Society for Clinical Investigation, the Association of American Physicians, the American Clinical and Climatological Association, and the International Academy for Health Sciences Informatics. He has also been elected to fellowship in the American College of Medical Informatics and the American Association for Artificial Intelligence.
He is a Master of the American College of Physicians (MACP) and was a member of that organization's Board of Regents from 1996-2002. He was Editor-in-Chief of the Journal of Biomedical Informatics from 2001-2020. In the early 1980s he was the recipient of a five-year research career development award from the National Library of Medicine. In addition, he received the Grace Murray Hopper Award of the Association for Computing Machinery in 1976, the Morris F. Collen Award of the American College of Medical Informatics in 2006, and has been a Henry J. Kaiser Family Foundation Faculty Scholar in General Internal Medicine. Shortliffe has authored more than 350 articles and books in the fields of biomedical computing and artificial intelligence, including a major textbook (Biomedical Informatics: Computer Applications in Health Care and Biomedicine, with J.J. Cimino, New York: Springer, 5th edition, 2020).
Shortliffe was one of four honorees by the NAM in October, a list that includes Kenneth Olden, director emeritus, National Institute of Environmental Health Sciences; Linda P. Fried, dean and DeLamar Professor of Public Health, Mailman School of Public Health, Columbia University; and John E.I. Wong, executive director, Center for Population Health, National University of Singapore.
"The decades of service and generosity these members have shown to the NAM make them remarkably deserving of this recognition," said National Academy of Medicine President Victor J. Dzau.  "From advancing healthy longevity around the globe to reshaping environmental health and leading NAM initiatives, it is an honor for us to recognize these individuals' expertise, hard work, and diligence — all in the name of advancing health and science to new frontiers."