DBMI Accepting Applications To Join 2022 Cohort
DBMI is currently accepting applications to join the 2022 cohort. More information about the application process and the various programs is available below.  
We also held a virtual information session, led by graduate program director Marina Bonanno and DBMI PhD students Amanda Moy, Undina Gisladottir, Harry Reyes Nieva, and Yiwei Sun. This video (posted to the right) discussed the  Columbia graduate program, the application process, and answered questions from potential applicants.
Application Link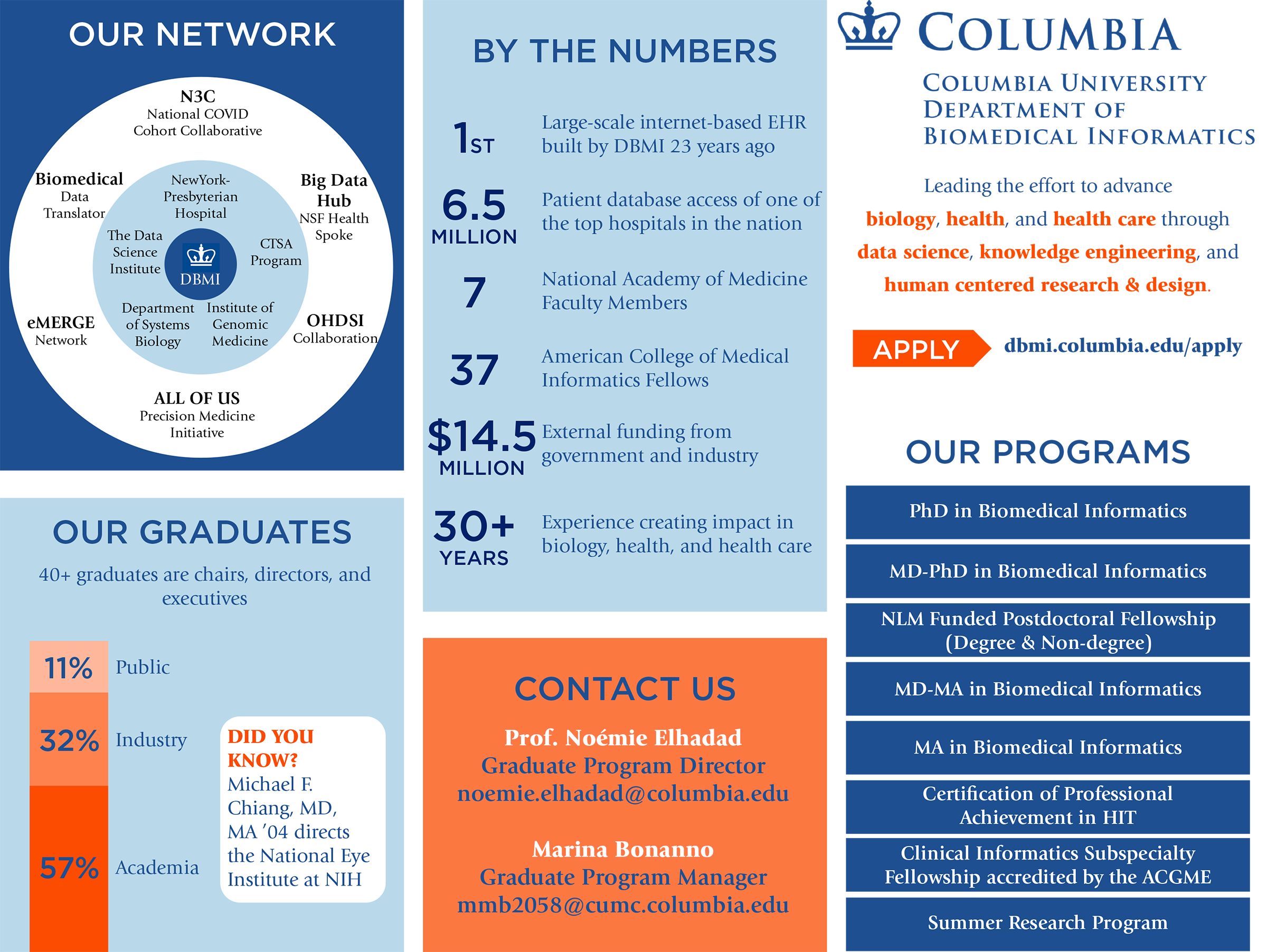 The online application to apply to any of the Coordinated Doctoral Programs in Biomedical Sciences and the MA Program in Biomedical Informatics is available here. The Graduate School of Arts and Sciences (GSAS) does not accept paper applications. 
Application Deadline
The application deadline for Fall 2022 enrollment is December 1, 2021. GSAS does not offer spring term admission. 
What Do I Need To Apply?
Other than receipt of a bachelor's degree prior to enrollment from an accredited institution as defined by Columbia University, there are no prerequisites to apply to our program.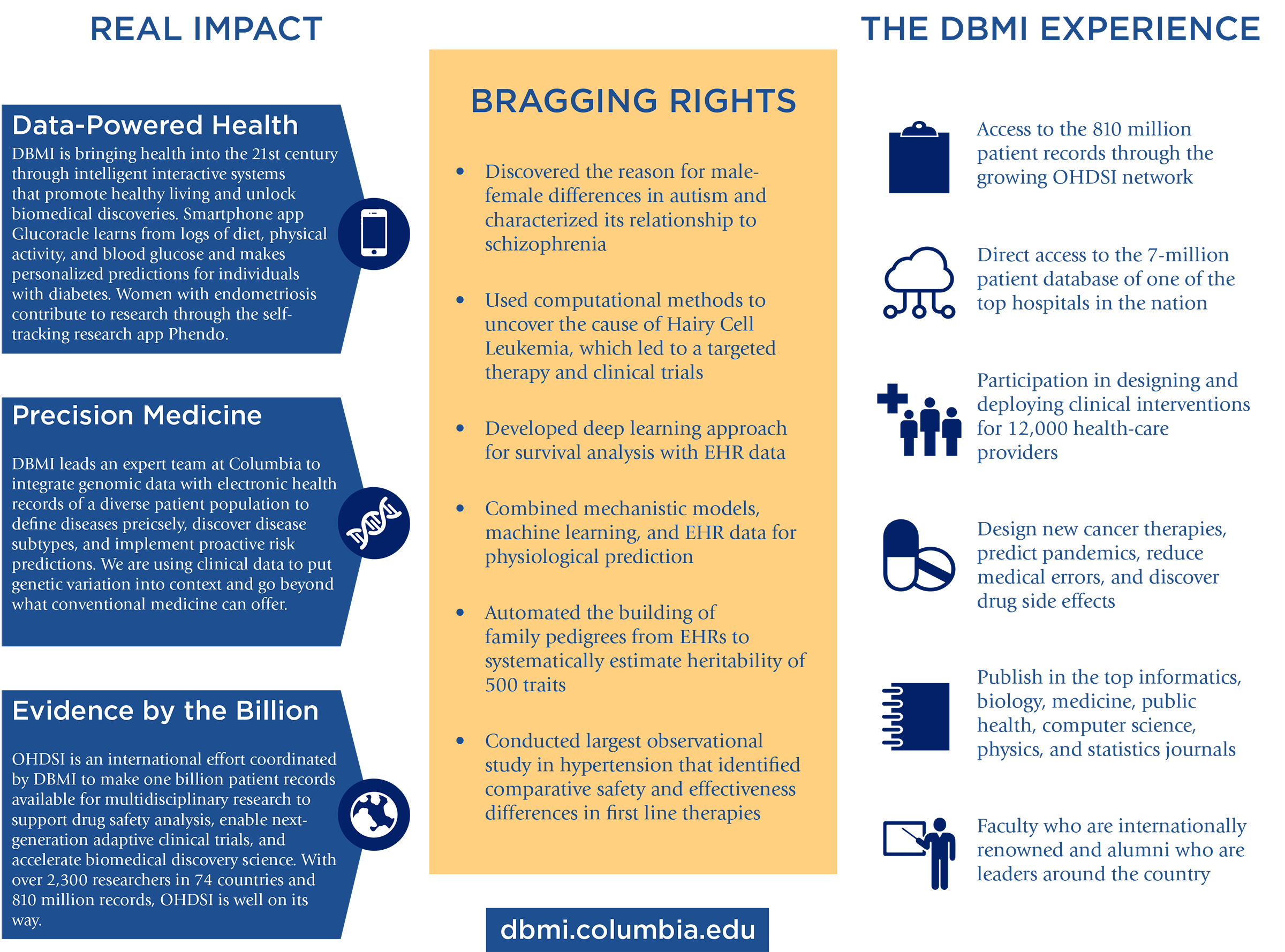 The MA and PhD program require the same online application, which consists of the following:
• transcripts from previous undergraduate or graduate institutions attended, regardless of degree obtainment, uploaded to the online application. Accepted students order official transcripts to be sent to the GSAS Graduate Affairs Office. See transcripts for further instructions.
• Unexpired GRE or MCAT scores taken within the last five years
Official GRE or MCAT scores must be sent to the GSAS Graduate Affairs Office by the testing agency prior to the 12/1/21 application deadline. See test scores for further details. Applicants enter their scores onto their application. Applicants unable to fulfill this testing criteria are ineligible for admission per GSAS.
• TOEFL or IELTS scores for international applicants may be required. See English Proficiency Requirement for information on this requirement and waiver eligibility. Test requirements, including minimum scores and waiver eligibility, are the purview of the school, not the department. Any questions may be directed to the GSAS Graduate Affairs Office at biomedicalsciences@cumc.columbia.edu, tel. 212.305.8058. Any international applicant who has not met the TOEFL or IELTS waiver eligibility criteria as defined by GSAS, obtained email waiver approval for the requirement from their office in advance of the admission deadline, or whose scores fall below the GSAS minimum are not offered admission.
• three (3) letters of recommendation
• a personal statement
Specify in your statement why you have applied to our particular program, which training faculty have research that interests you, and your involvement in any previous research.
Please be advised that unlike other programs, an admissions committee selects finalists for interviews. Individual faculty do not select students to interview independent of the committee. The department recommends finalists for admission to the deans. Final admission decisions rest with GSAS.
More information is available through the Graduate School of Arts and Sciences, including a section on Frequently Asked Questions.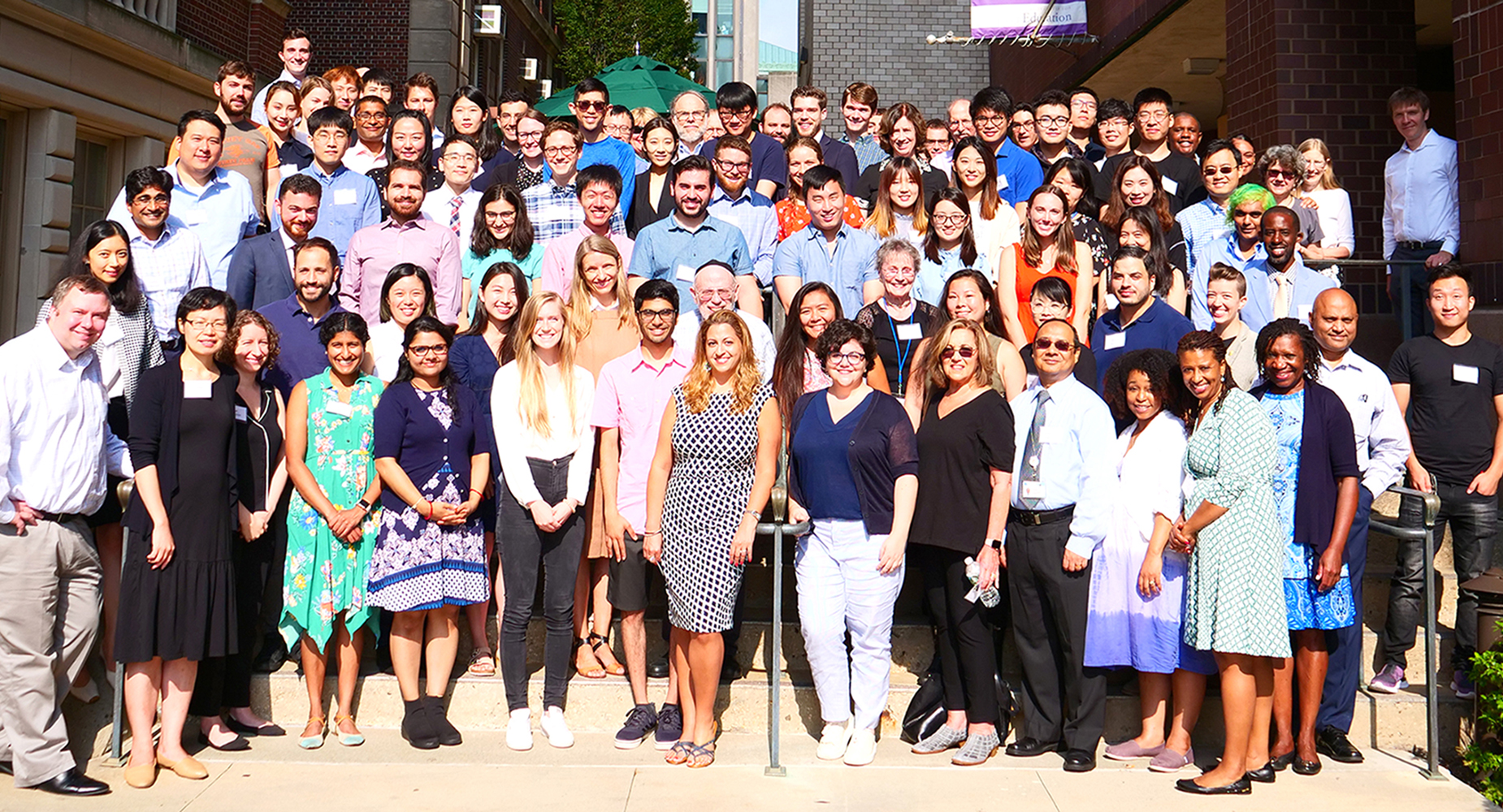 Why Columbia?
The Columbia Department of Biomedical Informatics has set the path for the design of clinical information systems, methodologies in clinical natural language processing, and machine learning over electronic health record data. One of the oldest informatics departments in the nation, research interests of both faculty and students includes the development and evaluation of innovative information technologies, which has led to enhancements in both health and healthcare.
Year after year, our graduates go on to successful careers in academia and industry. DBMI students come from diverse backgrounds, including medicine, biology, computer science, mathematics, engineering, and public health. They build on the training they receive in biomedical informatics to become tenured faculty and academic chairs at top-tier institutions as well as leaders in healthcare and pharmaceutical companies and founders of innovative new startups. More than 40 of our graduates are chairs, directors and executives.
From interactions with our renowned faculty to collaborations with fellow students who have a range of expertise, the relationships students forge here will inspire and guide the rest of their career. The breadth and depth of the DBMI experience will provide a solid foundation to develop state-of-the-art computational tools to address critical challenges facing healthcare and medicine today. 
Learn more at our PhD Program homepage.
Learn more at our MA Program homepage.
Need further information? Consider attending an informal Q&A session with our graduate program manager, Marina Bonanno, and current PhD students, on Monday, November 15 at 7 pm EST (see Zoom details below).  You may submit questions in advance to mmb2058@cumc.columbia.edu This session will be taped and subsequently posted to our website for those who cannot attend.