DBMI Celebrates 2020 PhD, PostDoc, Master's Graduates
During Virtual Ceremony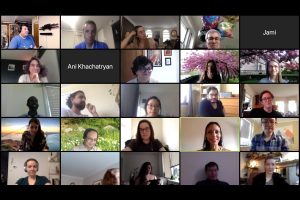 Class of 2020 Profiles (this series will continue throughout the summer):
Gal Levy-Fix, PhD
Daniel Feller, PhD
The Columbia Department of Biomedical Informatics (DBMI) honored its 2020 PhD, Postdoc and Master's degree graduates during a memorable virtual ceremony on Thursday, May 28.
The ceremony, which included video tributes from the likes of Dr. Anthony Fauci, director of the National Institute of Allergy and Infectious Diseases, and Dr. Patti Brennan, director of the National Library of Medicine, honored those DBMI student who either completed their training program this spring or who are anticipated to earn their degree in the fall.
The PhD graduates are:
Amelia Averitt, PhD
Jonathan Chang, PhD (anticipated October degree)
Andrew Chiang, PhD (anticipated October degree)
Michelle Chau, PhD (anticipated October degree)
Daniel Feller, PhD
Alexander Hsieh, PhD
Gal Levy-Fix, PhD
The Postdoc graduates are:
John "Jack" Angiolillo, NLM funded postdoc research fellow MA
RuiJun "Ray" Chen, NLM funded postdoc research fellow MA
Jami Jackson Mulgrave, NLM funded non degree postdoc research fellow
The Masters graduates are:
Xintao Ding, MA
Li-heng Fu, MA
Ani Khachatryan, MA
Jovana Pavisic, MA
Katherine Schlosser, MA
Wen Shen, MA
Sarah Yam, MA
Janice Yang, MA
Zhenyu Zhang, MA (anticipated October degree)
The ceremony began with a photo/video tribute to each graduate, followed with video tributes from many members of the informatics community, including DBMI Adjunct Professor of Biomedical Informatics James Cimino, MD, MS, and followed with an inaugural set of DBMI-ies, a student- set of awards that highlighted the personal connection made by the trainees within our program.
Both George Hripcsak, MD, MS, Chair and Vivian Beaumont Allen Professor of Biomedical Informatics, and Noémie Elhadad, PhD, Associate Professor of Biomedical Informatics and Graduate Program Director, also shared thoughts to the graduate. Their words highlighted the importance of the informatics field at this moment, and their pride in the accomplishments of the 2020 cohort.
Thank you to Marina Bonanno, Kang Chen, Oliver Bear Don't Walk IV, Elliot Mitchell and Amanda Moy for their great work in putting together this ceremony.