Class of 2020 Profile: Jami Jackson Mulgrave, PostDoc
More Class of 2020 Profiles: Amelia Averitt • RuiJun "Ray" Chen • Daniel Feller • Gal Levy-Fix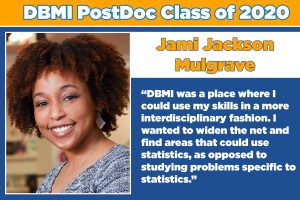 Research was the greatest source of passion for Jami Jackson Mulgrave, PhD, throughout her doctoral journey at North Carolina State. A North Carolinian who earned her bachelor's degree at Columbia, she didn't need to look far to find the right spot to further her educational experience as a PostDoctoral Research Fellow.
"I believed a postdoc would allow me to continue to work in research while also allowing me to decide whether I wanted to stay in academia or move to industry," Jackson Mulgrave says. "DBMI was a place where I could use my skills in a more interdisciplinary fashion. I wanted to widen the net and find areas that could use statistics, as opposed to studying problems specific to statistics."
Statistics was the focus of her time at NC State, and a strength she would ultimately use to enhance multiple efforts within DBMI. Integrating that statistical background into work around important healthcare concerns, while also adding knowledge in other related informatics areas, intrigued Jackson Mulgrave.
She found the perfect advisor in George Hripcsak, MD, MS, the Chair and Vivian Beaumont Allen Professor of Biomedical Informatics. DBMI is the central coordinating center for the Observational Health Data Sciences and Informatics (OHDSI) initiative, and Hripcsak introduced Jackson Mulgrave to areas she could positively impact.
"Jami came to us with doctoral training in non-parametric Bayesian statistics and machine learning, which turned out to be a perfect match for our work at OHDSI," Hripcsak says. "Working with David Madigan and me, she investigated a new way to approach OHDSI's confidence interval calibration, which is a technique to measure how biased a study might be and to use that measurement to correct the study. Her Bayesian approach avoided unnecessary assumptions and allowed us to unify what was previously independent components, making for a simpler approach."
She also worked with both Hripcsak and David Albers, PhD, on a data assimilation project to forecast what someone's glucose would be based on a deep physiological model of glucose, insulin, and the endocrine system.
"From that project, I was most proud of pulling the data together and using the data assimilation method to run on the data and begin to learn some things," she says. "I learned how to use Python to pull and clean data, which was a big deal to me, but I also learned about the data itself."
"Jami demonstrated that the approach can work in large scale and produce patient-specific forecasts with only a couple of data points, and that it was accurate enough to distinguish patients with glucose intolerance (near diabetes) from healthy ones," Hripcsak adds. "Jami did a wonderful job at Columbia, bringing in outside skills and pushing forward on these important projects."
While Jackson Mulgrave appreciated the expertise that Hripcsak could pass on, she was even more grateful for the opportunity to learn through her own experiences within DBMI.
"He is so knowledgeable about many things and his breadth of knowledge is vast, but he gave me the opportunity to figure things out on my own," she says. "I appreciated the autonomy he gave me, but we checked in with each other about the work. I felt like he gave good space to grow into it, but he was also able to guide me through the research."
While she was able to use the strengths from her PhD in Statistics to aid OHDSI research, she was pleased to experience the wide range of possibilities within the informatics field during her two years at DBMI.
"I enjoyed just listening to the professors and the students talk about their work and learning about the impact it could have," Jackson Mulgrave says. "It was exciting to learn about how people were creating things that could be put into practice."
Jackson Mulgrave's own creations extended beyond her statistical work. She became a liaison with the URPostdocs, the Underrepresented Postdocs group at Columbia that seeks to unite underrepresented postdocs (Women, Latinos, African-Americans, Native Americans, and persons with disabilities, etc.) into one group. She helped organize events for the group, and continues to advocate for spreading the word about informatics to minority groups that may not know as much about the field.
Following the completion of her PostDoc experience, Jackson Mulgrave's passion for research brought her to Facebook, where she currently works as a people research scientist. She loves the methods used to do research related to recruiting, and she found that those methods, whether they are in industry or academia, are a path to personal fulfillment in her career.