25 By 5: Symposium to Reduce Documentation Burden
on U.S. Clinicians by 75% by 2025
The overall symposium goal is to establish strategies and approaches to reduce clinician documentation burden on US clinicians to 25% by 2025.
Specific meeting goals include: 1) Engage a diverse group of key stakeholders and leaders focused on reducing documentation burden 2) Assess the likely potential for burden reduction within categories of documentation burden, including identifying 'low hanging fruit' for 'quick wins' without adversely impacting quality or access to care 3) Establish approaches for immediate (<3 months) and short-term (6 months) reduction in clinical documentation burden 4) Generate approaches to longer term (10 years) elimination of clinical documentation burden. Attendees are expected to commit to furthering the mission of reducing clinician documentation burden by leading and raising awareness of the outputs, action items, and initiatives that result from this symposium series.
If you have any questions or wish to join our listserv, please send your name, institution and email address to 25by5@lists.cumc.columbia.edu.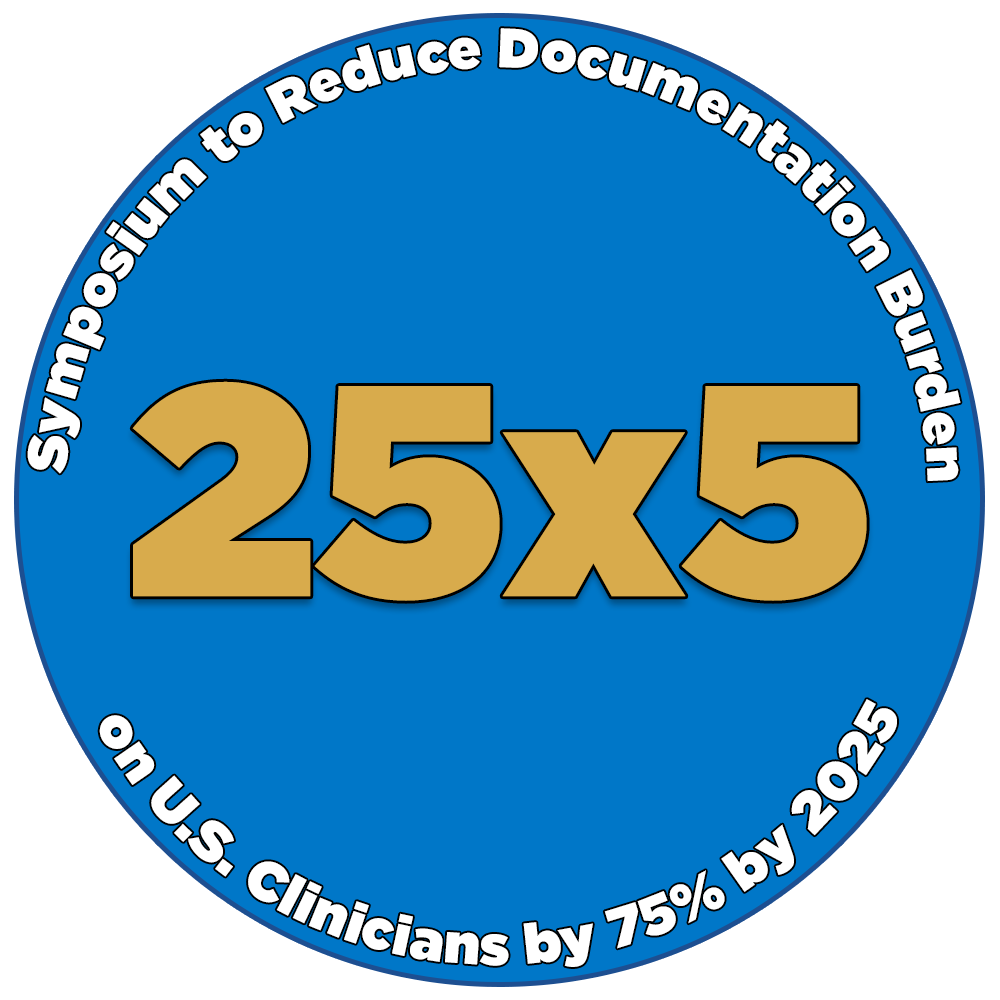 Funded by the National Library of Medicine (1R13LM013581-01)
Symposium Series Schedule – Save The Dates!
There are several articles relating to the subject of documentation burden that the 25×5 Symposium Committee found relevant to discussions that will be had throughout the event. Most of the articles are linked here, while the final one from that list is available here.
AMIA hosts a 25×5 an informatics discussion community for the Symposium Committee, invited speakers and subject matter experts, and individuals who responded to the survey about reducing documentation burden.  The 25×5 Community is part of AMIA's Connect platform.  Contact Jeff Williamson of the 25×5 Symposium Committee Community with questions.
Co-Chairs
• Sarah Collins Rossetti, RN, PhD, FACMI, FAMIA Assistant Professor of Biomedical Informatics and Nursing, Columbia University
• S. Trent Rosenbloom, MD, MPH, FACMI Vice Chair of Faculty Affairs & Associate Professor, Departments of Biomedical Informatics, Internal Medicine & Pediatrics, Vanderbilt University
Steering Committee Members
• Don Detmer, MD, FACMI Professor of Medical Education, Dept. Public Health Sciences, University of Virginia School of Medicine
• Kevin Johnson MD, MS, FAAP, FACMI Professor and Chair of Biomedical Informatics, Vanderbilt University
• Kenrick Cato, RN, PhD, FAAN Assistant Professor of Nursing, Columbia University
• Dasha Cohen Director of Meetings, AMIA
• Jeff Williamson M.Ed. Vice President of Education and Academic Affairs, AMIA
• Judy Murphy, RN, FACMI, LFHIMSS, FAAN Previous IBM CNO and ONC Deputy National Coordinator for Programs and Policy
• Amanda Moy, MPH National Library of Medicine Pre-doctoral Trainee, Columbia University
• Jessica Schwartz, RN, BSN National Institute of Nursing Research Pre-doctoral Trainee, Columbia University
• Eugene Lucas, MD Internal Medicine Physician, Clinical Informatics Fellow, Columbia University   
• Craig Sachson Associate Director of Cross Campus Communication and Collaboration, Columbia University